Paralympian coaches students through swimming and life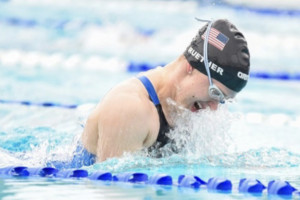 Martha Ruether '22, Malone's newest swimming graduate assistant, placed eighth for Team USA in the Rio 2016 Paralympic Games and has hopes to return to the Paralympics next year. While she juggles her swimming career and training schedule, Ruether is also pursuing a master's degree in the School Counseling program at Malone.
Blind in her left eye with 20/400 vision in her right, Ruether began swimming in gym class.
"I had an adaptive physical education teacher who was the local club swim coach," Ruether said. "She chose to teach me everything, even the butterfly stroke, by the time I was six years old."
Ruether grew to enjoy swimming as a middle school student and now ranks fourth in world rankings for her performance in the 50-meter freestyle event.
Malone's swimming and diving coach, Russ Hunt, was one of Ruether's international training mentors. Her connection to him introduced her to Malone and the graduate assistant position which would allow her to support the Pioneer swim team.
"I chose the school counseling graduate program because I want to learn to support youth as they navigate our difficult world," she said. "In light of everything that is going on now, the youth of today have a lot more to deal with, so having caring adults in their corner is really valuable."
In her graduate assistant role, Ruether has been living out her passion for counseling in the Malone community and has grown to appreciate the cohesiveness of the student body. On campus, she loves seeing the joy and smiling faces at swim practice and simple meals in the cafeteria. Now, during the Stay At Home order, she stays connected through email and continues to encourage her athletes. The warm feeling of community that Malone offers remains intact despite everyone being apart.
"I encourage Malone athletes to maintain their overall goals by working on the smaller, day-to-day goals," she said. "I have learned that putting goals in writing can be a helpful motivator that you can refer to on a daily basis."
While her own goals to swim in Tokyo for the 2020 Paralympic Games have been delayed until 2021, Ruether's tenacious drive has served her well as she's shifted to training on land and continues to work towards her degree online.