Realizing her dreams
With a pencil behind her ear as she sat in her childhood desk, Amber Benson '15 dreamt of becoming a teacher.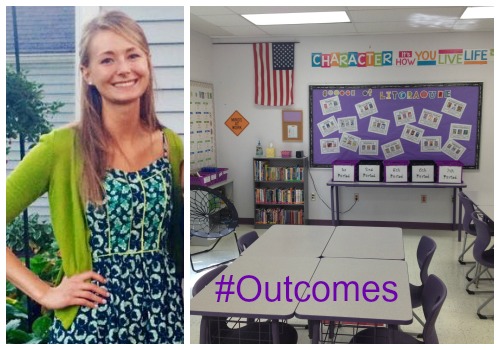 Her lifelong dream was realized this fall when she accepted a Language Arts teaching position at Waggoner Road Middle School.
"I look forward to going to school to see my students everyday" Benson said. "I am looking forward to the many different opportunities I will have to grow as an educator."
Despite her enthusiasm, the position does come with its share of challenges. For example, adapting to the unexpected aspects of the job.
"One challenge that I am facing is that I have an intervention specialist in my room for every class period and sometimes it is difficult to collaborate effectively, especially for me as a new teacher," Benson said.
On top of adjusting to the new environment, Chromebooks are now being incorporated into the classroom setting. Benson admits that sometimes the new technology doesn't always cooperate, but it's a price to pay for an enriching learning experience—not to mention it cuts back on paper.
"I think it's great that we are saving so much paper using this method," she said.
Benson is ready to face the new technological age of the classroom head on. She is diligently working to learn about the most effective methods to utilize the technology in the classroom.
"I am excited to learn new strategies to help teach my kiddos using digital means," she said.
Although there are the inevitable challenges that accompany any new task, Benson believes that they will be a means of growth and will only help her further in the long run. She is looking on this new chapter of her life with eagerness and zeal.
"I have the greatest job," Benson said, "and I feel so blessed every day!"