Reputation for Excellence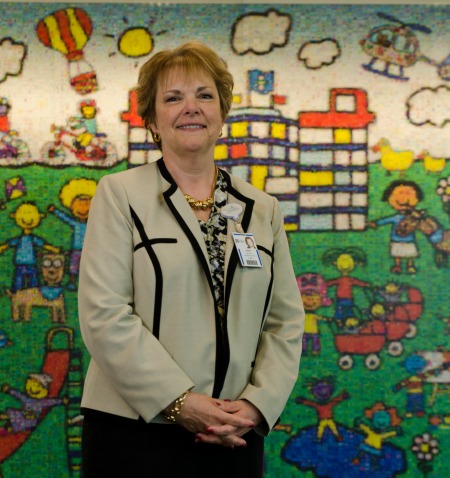 Thirty-nine years ago, Linda Hetson '03 began working at Akron Children's Hospital as a medical secretary in pathology.
A bachelor's and master's degree later, she's vice president of professional services for one of the largest pediatric hospitals in the U.S. One of Northeast Ohio's biggest employers, Akron Children's has hired dozens of Malone University graduates in a variety of capacities.
"I love my job because every day is different," said Hetson. "It's exciting to be part of a place that gives such great patient care and has a reputation for excellence."
Cheryl Markle '88, M.D., is one of 111 pediatricians at Akron Children's Hospital Pediatrics, the hospital's primary care network, and works in the North Canton location. In practice for more than 20 years, she earned her medical degree from Wright State University Boonshoft School of Medicine and also completed her residency training at Children's.
Dr. Markle said she became a pediatrician because it was the best way to combine her desire to help people with her specific passion for helping kids.
"I have seen some of my patients from newborn to high school graduate," she said. "One of my newborn patients is now the mommy of a new patient. It is a joy to see my patients grow, change, blossom, and develop their own goals and aspirations."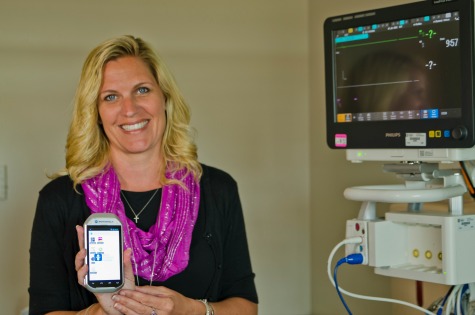 Tammy Troyer '09 is part of a newer and growing trend in health care – nursing informatics – and recently earned her MSN in the specialty. She's also pursuing an MBA with a specialization in health care.
"I really enjoy technology," she said, "and a nurse is who I am, so I get to combine my passions to be an advocate for nurses as we introduce new technology that saves lives and provides better patient care."
Troyer recently introduced a new smart phone system that doctors and nurses use to communicate about patient care. The devices also are equipped with alarms that nurses must manually swipe to turn off.
"No more deciphering doctor's handwriting for orders," she said. "Also, studies have shown that nurses often have 'alarm fatigue' because of the thousands of alarms they hear every day – there is a danger of almost tuning them out."
Troyer often speaks to Malone nursing students, educating them on the many different types of nursing that they might want to pursue.
Desiring excellence was instilled in Elaine Christopher '92 throughout her time at Malone. Christopher was in the third class of Malone's nursing graduates and recently celebrated her 25th anniversary with the hospital.
"I learned evidence-based practice and best practices in nursing from Loretta Rhinehart, bedside patient care from Martha Horst, and Peggy Halter made difficult classes fun and memorable," said Christopher. "Five of my nursing classmates and I live in different states, but we get still together each year. We have all chosen a different course of nursing – school nursing, doctor's offices, MSNs, hospitals. It is neat to see where our careers have taken us, and I love that we still get together."
Christopher spent her first 11 years in the Pediatric Intensive Care Unit before moving to outpatient surgery.
"My mom is a nurse, and I have wanted to be one for as long as I can remember," she said. "I used to practice on my dolls when I was little. I enjoy the nurturing aspect of nursing: caring for others, being with patients and their parents at their most vulnerable moments, and then seeing the smiles on people's faces as they leave the hospital."
Megan Dahlheimer '08 is a pediatric nurse practitioner in Children's CARE center, a department dedicated to children at risk from neglect or abuse.
"It is definitely challenging as I see children going through very difficult times," said Dahlheimer. "I try to be a light in their darkness, to make their experience as positive as I can, no matter how hard that may be."
Malone graduates work in a variety of roles at the hospital. Brian Hollingsworth '02 has a Communication Arts degree and a master's degree in organizational leadership and is a major gifts officer for the Akron Children's Hospital Foundation.
One of his favorite projects is on display in the main lobby: when Children's was breaking ground for the Kay Jewelers Pavilion, administrators wanted to do something special for the ceremony.
At a brainstorming meeting someone suggested creating a model of the new building using LEGO blocks. Hollingsworth asked for volunteers, and with the help of professional architects, 12,000 pieces, and 120 hours, the model was complete.
"It was a lot of fun, and we received an amazing response," he said.
Caring for infants in the Neonatal Intensive Care Unit (NICU) is a distinct calling for Megan Patton '09.
"Whether babies are in our unit because they were born too early or because they require some kind of surgery or other intervention after birth, their strength and resilience fascinate me," said Patton. "Perfection in such tiny form points to their Creator God in undeniable ways. I thank Him daily for the opportunity to be the hands to help the babies heal and grow. Another challenging but rewarding part of the job is standing beside my patients' parents. Some days we are cheering their baby on, laughing over smiles or facial expressions and celebrating another ounce of weight gain. Some days we are tearful as there is another piece of bad news or we have to say goodbye. No matter what kind of a day in the NICU it is, I find it an honor to be the nurse in the room for my patients and their families."
NICU nurse Hannah Sierko '13 agreed.
"It's amazing to see how strong these tiny human beings are! Part of my job is going to deliveries and stabilizing newborns, which can be intense and daunting at times. Yet I feel like I am making a positive impact on the world around me," said Sierko. "Malone's Nursing program prepared me well for the work environment. I had an excellent knowledge base and I continue to learn more every day."
According to Stephanie Reagan, MSN, CNS, and director of the RN/BSN program, Teddy Pavlantos '17 and Anna Jaimes '17 are completing a summer scholarship at Children's called the Assuring Success with a Commitment to Enhance Nurse Diversity (ASCEND) Program.
"We have been asked to participate in this program the last two years," said Reagan. "Maryah Addie '16 was hired at Children's from participating in the summer program."
At press time, several others from the Class of 2016 also were hired at Children's, pending passage of the National Council Licensure Examination (NCLEX) through the State Board of Nursing.
Leah Webb '16 was extremely active at Malone as a tutor and resident advisor, and is eager to join another welcoming community as a float nurse.
"I'm so excited," said Webb. "It's everything I've been working toward."