Rho Tau Chapter of Kappa Delta Pi receives Achieving Chapter Excellence Award; Inducts 16 students to honor society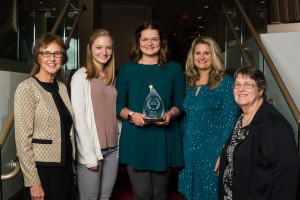 The Rho Tau Chapter of Kappa Delta Pi was awarded the Achieving Chapter Excellence Award (ACE) during the Honor Society's meeting in October. Mariah Shaffer, chapter president, of Alliance; Katie Grimes, chapter vice president, of Canton; and Chanda Coblentz, Ed.D., chapter counselor, of Uniontown, Ohio, received the award at the International Convocation in October. The Achieving Chapter Excellence Award (ACE) Awards Program recognizes Kappa Delta Pi chapters that exhibit outstanding programming in support of the Society's mission and strategic goals. Since its inception, chapters across the country have aspired to offer creative, purposeful programming and a full slate of chapter activities with the hope of earning this coveted award. With more than 600 chapters aspiring to achieve this award, Malone university's Rho Tau Chapter was one of only 22 universities to receive it. Rho Tau has been a recipient of the ACE award each biennium since its inception in 1995.
"Kappa Delta Pi stands for 'Knowledge,' 'Duty,' and 'Power,'" said Coblentz. "Our chapter strives to uphold the Society's ideals of science, service, toil, and fidelity to humanity. I am honored to serve alongside the members of Malone's Rho Tau Chapter as they further the mission of Kappa Delta Pi while upholding Malone's mission of Christ's Kingdom First. The prestigious award is a great testimony of the collective efforts of our students and faculty in the Department of Education."
Rho Tau was also invited to participate in a poster session focusing on the importance of community involvement.
Also, the following 16 students were inducted into the Kappa Delta Pi:
Stephanie Carson, senior, of Minerva, Ohio
Brittani Dunlap, sophomore, of Canton, Ohio
Andrew Ferguson, senior, of Zanesville, Ohio
Alyssa Goodwin, sophomore, of Uniontown, Ohio
Kendra Hartman, junior, of Mansfield, Ohio
Ginette Jaramillo, junior, of Santa Fe, New Mexico
Emily Lippincott, sophomore, of New Franklin, Ohio
Joshua Loar, senior, of Canton, Ohio
Taylor Miller, senior, of Louisville, Ohio
Kelsey Modlin, senior, of Massillon, Ohio
Maria Mokler, sophomore, of Uniontown, Ohio
Kayla Nieset, senior, of Geneva, Ohio
Jenna Piersol, junior, of North Canton, Ohio
Margaret Poorman, senior, of North Lawrence, Ohio
Laurel Raber, junior, of Smithville, Ohio
Nicole Reeves, sophomore, of Parma Heights, Ohio