Ride across Ohio raises scholarship funding for Practical Ministry Certificate program
Inspired by the Pioneer 100, President David King's annual Ride for Scholarships, Ed and Brenda Walsh recently took to their own bicycles to raise scholarship funding for Malone's new Practical Ministry Certificate.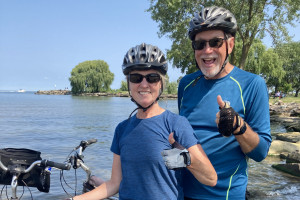 Pastor Ed Walsh, ministry director of finance & administration and church health for the Evangelical Friends Church- Eastern Region (EFC-ER), and his wife Brenda reside in Canton and currently attend First Friends Church.
They have enjoyed riding their bicycles together since their college days at Miami of Ohio.
"It's a great way to enjoy God's creation and especially fun if we can conclude our ride with lunch or dinner," Ed said. "We ride the Cuyahoga Valley Trail quite a bit, have enjoyed the Greenway Trail from Lisbon to Leetonia, and we've also done longer rides like one from Pittsburgh to Washington D.C. But our ride across Ohio has been our best ride yet!"
In August, the Walshs rode from Cincinnati to Cleveland, with their back tires starting in the Ohio River and their front tires ending in Lake Erie, with hopes of raising funds to support students who want to enroll in the Practical Ministry Certificate program.
The Friends community rallied with them, collecting nearly $1,500, with donation opportunities still ongoing.
"God has gifted many of our lay people with shepherding abilities," Ed said, "and the Practical Ministry Certificate program provides a new opportunity to further develop that gifting so they can be equipped for more effective ministry. Brenda and I want to see this program grow so that lay leaders in the church can encourage other believers in their walk with Christ."
Brenda is also connected to the Malone community through her role as an adjunct professor who supervises student teachers, and she enjoys seeing the academic development of Malone students firsthand.
"It's an honor and privilege to serve with the Malone faculty and I'm continually impressed with the level of preparation that our students demonstrate as they practice teaching others," she said.
Though not Malone graduates themselves, the Walshs are grateful for the Institution's long, rich relationship with the ERC-ER.
"It brings us great joy to see Malone continuing to demonstrate Christ's Kingdom First even 130 years after its founding," Ed said. "The Practical Ministry Certificate is one more example of how Malone partners with the EFC-ER to do just that."