Senior Morgen Kyser honored with Robert Lair scholarship
Department of English faculty members were looking for a standout student who went above and beyond in the classroom and demonstrated bold character.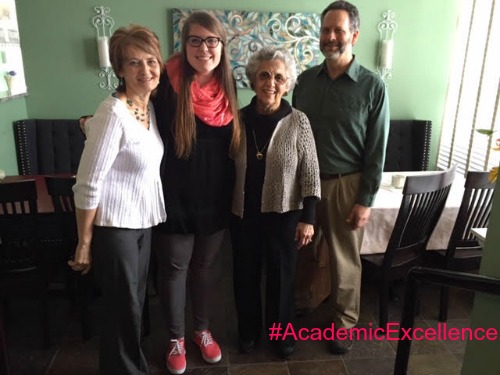 They found that in Morgen Kyser, a senior integrated language arts major, and honored her as the first recipient of the Robert Lair Scholarship.
Lair was a beloved professor at Malone who retired in 1994, and whose legacy continues through what is expected to become an annual named scholarship award. Lair's wife, Zovi, especially wanted to be able to give out the scholarship during her lifetime to be able to see the fund benefit a student. She met with Kyser at a lunch this spring.
Zovi was delighted with the choice of Kyser.
"Robert would have really liked you," Zovie told the student. "You two have very similar personalities and are both friendly to everyone."
Kyser was initially surprised by the news that she was awarded the $1,000 award.
"I didn't apply for the scholarship. My professors from the Department of English most likely chose me based on my overall experience at Malone," she said. "I have close-knit relationships with them. The timing was perfect and the scholarship helped me financially. It's been a blessing!"
Kyser hopes to be a high school English teacher after graduation.
"I want to use what I learned here at Malone to help shape lives, further God's kingdom, and make students better versions of themselves," she said.