Students create opportunities through grant writing project
Malone's advanced public relations writing class prepares students to communicate through a variety of platforms, showing them how to discern not only their strengths and weaknesses, but what they enjoy writing about the most.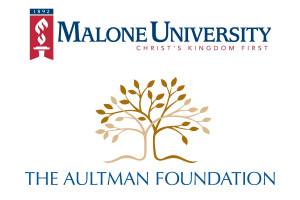 Consistent with the Pendle Hill Pledge, students have discovered their true passions through course exercises like this one: grant writing to the Aultman Foundation on behalf of community partners.
"It is a privilege to witness our alumni choosing to focus their vocations as grant writers, content creators, volunteer coordinators, and event planners," said Ann Lawson, assistant professor of business. "Knowing that these experiences helped inform their choices of vocation, and the profound impact they have in our community, makes this one of the most gratifying aspects of teaching at Malone."
For this project, students contacted and interviewed potential partners, researched organizations and community needs, and learned grant writing and submission processes.
Upon project completion, The Aultman Foundation announced this year's recipients and three out of five teams of Malone students were awardees, securing nearly $7,000 in grant funding. The winning teams included COMPASS, Kingsway Christian School, and Wayne Center for the Arts.
COMPASS - $3,000 to educate the community about the sexual assault hotlline merger of COMPASS and Alliance Rape Crisis Program. (Delaney Major '21, Christian Stark '22, Ella Myrthil '22)
Kingsway Christian School - $1,500 to host a pen pal program between students and nursing home residents. (Seneca Ransom '23, Coralee Hochstedler '22, Kaylyn Jones '22)
Wayne Center for the Arts - $2,400 to help provide art therapy classes at the local National Alliance on Mental Illness chapter. (Catherine Martinez '21, Mitchell Bodager '23)
"Through the grant writing project I appreciated that I could make an impact in the 'real world' while I was still in the classroom," said Ella Myrthil '22. "This was a good reminder that I do not have to wait until after college to put my PR skills to use and help others. I was grateful for this opportunity to connect with COMPASS and write a grant for them."
"I suggested Kingsway because that is where I went to high school," said Coralee Hochstedler '22. "It's a small school outside of Orville and was the first place that came to mind when we were brainstorming organizations. I have a lot of fond memories from Kingsway and this just seemed like a small way I could give back to a place that gave me so much."
"Catherine and I worked with Wayne Center for the Arts' head grant writer, which was intimidating at first because, honestly, he could have very easily decided to write the grant himself since that's a big part of his job", said Mitchell Bodager '23. "Instead, he let us have liberty and control over the process while giving us helpful tips and practices along the way. It was really nice to have his continual reassurance and expressed confidence in our abilities while we worked together."
Grants were also submitted for Hannah's House and Coleman Center.
"We are most grateful to Abby Shaub '13, Aultman Foundation's Community Relations & Grant Giving Coordinator, who spoke to and encouraged the class," said Lawson. "She supported the students along the way and was a guest speaker via Zoom to share about her vocational journey."
For a complete list of Aultman Foundation recipients: https://aultmanfoundation.org/home/grants/impact/