Students welcome refugees to Northeast Ohio
Following the command to "love your neighbor as yourself," several Malone students welcomed refugees at the airport.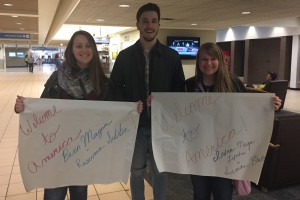 Last Wednesday – before a controversial ban of immigrants entering the United States – a handful of Malone students welcomed two refugee families at the Akron Canton airport.
The trip was organized by social work majors Jenny Bushnell '18 and Paige Jennings '18, who are interning at World Relief this semester. World Relief is a non-profit evangelical organization that assists refugees as they transition to new lives in America - and empowers the local church to do the same. Joining Bushnell and Jennings were Luke Murray '19, a Missions and Cross Cultural Ministries major; and Ashley Jåcome '19, who worked with refugees on a service-learning trip to Italy with Instructor of Communication Arts Ann Lawson last summer. The students are members of EKBALLO, a student organization with a focus on students who want to be missionaries.
"The love of Christ compels me to invite people of a multiethnic group with the gospel whether offering a warm welcome, a genuine friendship, or evangelizing," said Murray.
Bushnell is passionate about her faith and her work.
"I wanted to welcome these refugees into our country because when they enter other countries they are often discriminated against," she said. "If there's anything I can do when working with refugees it's showing them the love of Christ."
"While in America, refugees can experience much judgement and hate," added Jennings. " I want to show the refugees in Akron there are Americans who recognize their worth and are glad they're here."