TELLING STORIES. Alumni turns passion for movies into her calling
Alyssa Pearson's interest in film began at a young age.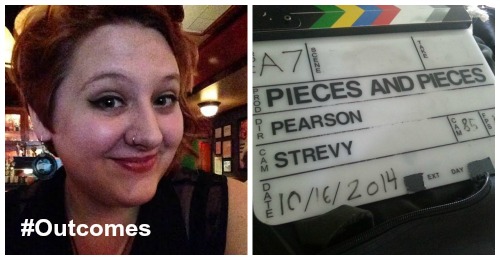 "I used to watch and rewatch movies over and over again," said the 2010 Communication Arts alumna, who is finishing an MFA in Film and Media at Temple University. "I used to make my mom buy all the extras I could find—books about movies, about the making of movies, and always the DVDs that had the behind-the-scenes features. My mom always thought that was the boring part, but jokes now that she should have known I was just preparing for my career."
Pearson is working on a film, Pieces and Pieces, about a woman coming back from war who is struggling with Post Traumatic Stress Disorder (PTSD).
"It is loosely based on my mother, who served as a sergeant during Desert Storm when I was a toddler, " she explained.
The film recently reached its Kickstarter goal to raise $4,500. To watch a trailer or learn more about the film, visit: https://www.kickstarter.com/projects/alyssampearson/pieces-and-pieces
Pearson said she realized her passion for film while attending Malone.
"The mentors and friends from the Communication Arts department have continued to be profoundly influential. Without them, I wouldn't have had the courage to even attempt the work I've done as a filmmaker," she said.
Pearson participated in Open Frame Film Festival while at Malone, where she won several awards, including an award at the BEA conference in Las Vegas for her film Keepsakes. Pearson has completed three films while at Temple University, all of which have played at various film festivals.
She's not sure what awaits her after graduation.
"I'm toying around with where I'd like to move next, whether I'll stay on the East Coast or make my way out West," Pearson said. "Wherever I go, I plan to be telling stories."