The 2020 College Experience: Community Six Feet Apart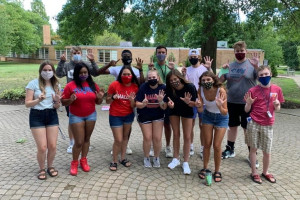 Last April, when life was flipped on its head, it was difficult to find any aspect of life that was left untouched by the grips of COVID-19. "Normal" suddenly became unfamiliar.
The high school graduating class of 2020 watched this happen first-hand as their senior year was cut short, and many students were left seeking a sense of belonging. More than ever, the 2020 fall semester was a crucial time for Malone's community to shine a light into darkened circumstances for these incoming students.
Malone's community is initially built, in part, by The College Experience, a mandatory course for all first-year students. This semester-long course provides first-year students with an orientation to the University while connecting them to each other and with a student mentor, the class course assistant (CA).
Julia Karmie '21 a third-year CA, knows just how important College Experience is for building connections and community.
"It's been really cool to see that, while this school year looked different, COVID-19 did not hinder the success of this course," she said. "One of the big things we focus on as course assistants is being a connection point for students. As a freshman, you come in and you're kind of lost. I know I was. So, it can be incredibly refreshing to know that there's an upperclassman who knows what they're doing, who cares about you, and wants to help. A lot of the mentoring that I do is focused on taking care of themselves so they can be holistically healthy and balance all the different aspects of their lives."
The pandemic has been a point of obstruction in many ways, but it hasn't hindered the strong community at Malone.
"This year has definitely been different, but different doesn't have to be bad," said Karmie. "I have seen a lot of good come out of these new circumstances. Community is still being built for this year's freshmen, even at a six-foot distance."
Pictured above is Section 15 during Malone's 2020 Orientation Weekend.