Truly Touched by Whole Latte Love Café
In the life of many college students, a simple cup of coffee could provide a caffeine boost, a study break, or needed community with friends and mentors.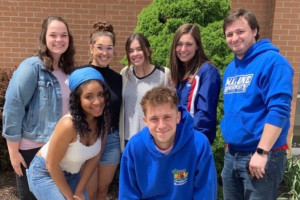 Recently, students in the communication arts senior capstone class raised $4,340 for Whole Latte Love Café, bringing their appreciation for coffee into their final project at Malone.
"Each year, the capstone class selects an organization that they would like to raise money for as a legacy project," said Professor of Communication Arts Marcia Everett. "This year's students chose Whole Latte Love Café because they wanted to give to a local organization whose mission they were excited about and for whom they thought their fundraising could make a difference."
Whole Latte Love Café is a coffee shop soon to open on Main Street in North Canton. Their mission and purpose is to provide vocational training and equipping for people with intellectual and developmental disabilities so that they can be competitive for jobs in the community.
"I'm so very proud of our now graduates for their hard work, from the start of the decision- making process to the conclusion of their project," said Everett. "They embodied our mission in this project in substantive ways."
The seven students solicited donations from friends and family using social media and earned money spreading mulch and cleaning out garages for Malone faculty and staff. Through these acts of service, members of the capstone class became truly touched by WLLC's mission as they learned the importance of programs like it.
"The best part of our capstone project was working alongside people who had passion for the work as well," said Gwen Gelofsack '21. "I was impacted by the work in many ways, especially learning more about developmental disabilities. It made me feel like I was part of something important."
"The legacy project was a great reminder to me of the mission of Malone," said Delaney Major '21. "Helping with something bigger than myself was truly rewarding and a great way to end my Malone experience."
Other students who made this possible:
Carter Hartong
Makayla Smith
Julia Karmie
Danielle Roshong
Jacob Garwood
"I am speechless ... and so so grateful. I can not believe this group of young adults raised all that money for us! Wow - Amazing!!," said Beth Humbert, founder and executive director of WLLC. The Whole Latte Love Café will officially open to the public in the fall of 2021.