When Alaskan adventure meets a PT's calling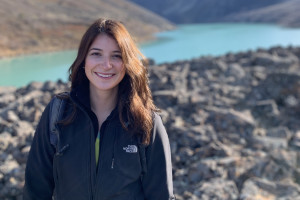 With her placement in Alaska as a travel physical therapist, Kirsten Stauffer '16 has had the opportunity to ride on dog sleds, walk across glaciers, hike to remote huts in the mountains, ice skate across frozen lakes, go on bush plane tours of the mountains, and hunt down the Northern Lights. Her journey to this adventure began when she enrolled in Malone's exercise science program for the undergraduate portion of her education.
"My favorite part of the Malone exercise science program was the individual attention given to each student," she said. "The professors and advisers listened to my career goals and assisted me in picking the courses and extracurriculars that would provide me the best experience for my resume for applying for and excelling in graduate school."
Stauffer was accepted into Ohio State's doctorate of physical therapy degree program and graduated in 2019.
"At Malone, I had direct access to the wellness facilities and professors who provided hands-on skills in physical assessment, exercise, and programming so I could feel confident in my coursework at OSU. My confidence grew through community education, engagement, and leadership that I believe had a big impact on my acceptance to PT school and my career as a physical therapist," she said.
As a travel physical therapist, Stauffer accepts three-month assignments in different cities across the country. Those placements have included Abingdon, VA; Boston, MA; Columbia, MO; Charleston, SC, and most recently Anchorage, AK. She currently serves as an outpatient pediatric PT, enabling her to work with children with neurologic, developmental, and orthopedic diagnoses.
"I started in travel PT to build career experience and life experience that I otherwise may not have gained in a permanent position," she said. "My passion is working with children from infancy through early adulthood and improving their life experiences through increased mobility, and I have had the chance to work almost solely in pediatric settings during my travel career. There is nothing like watching a child learn to take their first steps or even sit up completely unassisted!"
While it may be hard to top her experience in Alaska, Stauffer is excited for the future. Her advice for future students?
"Take advantage of every opportunity presented, every door God opens, and every path that crosses yours because you never know where they will lead!"