When Malone shows up in Manassas Park, Virginia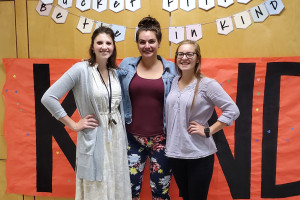 Cougar Elementary is a Pre-K through second grade school in Manassas Park, Virginia. It is also where three Malone-affiliated teachers work to impact children's lives every day. Madsen Thomas took post-secondary courses at Malone and teaches second grade, Quincy Livchak '18 serves as a kindergarten and first grade special education teacher, and Sam Shisler '18 is a first grade teacher. All three educators have proven to Cougar Elementary Principal Ann Gwynn that Malone graduates are well prepared to teach and mentor students.
When interviewing teachers, Gwynn looks for several characteristics: a teacher who is a flexible thinker, someone who helps others solve problems, and those who are open to new ways of educating students. She also looks for educators who are open to diversity and encourage individual differences in students. Finally, she aims to hire teachers who can view any situation from a child's perspective.
Malone graduates meet and exceed those requirements.
"All of our Cougar teachers from Malone are continuous learners who are willing to try new things," said Gwynn. "They take constructive criticism and put it to use, viewing the school as a collaborative environment that exists for the betterment of the entire community. They are incredible role models for students and colleagues, and our school is a better place because of their commitment to our district."
The Malone educators who teach at Cougar Elementary are exposed to greater student diversity than in Northeast Ohio and are committed to inclusivity.
"I loved how my Malone professors care for the whole student and taught me to do the same as an educator," said Livchak. "I know the best practices in education, I know the theories and why they work and how to help students learn. But even more, I have been taught how to share the love of Christ with both my coworkers and my students."
Gwynn couldn't agree more.
"Malone graduates who have come to work at Cougar Elementary School are overwhelmingly great people with big hearts who are wonderful teachers."