When Spain is replaced with Minnesota
What do you do when your lifelong dream of studying abroad gets canceled due to a global pandemic?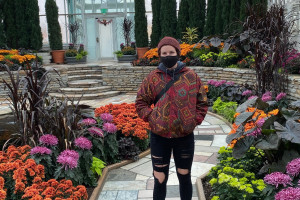 For Macy Hill '21, she was faced with this exact dilemma. A senior communication arts major at Malone, Hill had planned to study abroad in Spain this semester and was crushed to learn that the opportunity had to be cancelled.
"When I heard the trip was eliminated, I was really disappointed," Hill said. "It was a goal I had been working towards for the past four years, to spend a whole semester abroad, and I had to remind myself that my safety during the pandemic was more important."
Hill decided she would not allow her dream to die off under the pressures of the pandemic and her desire to travel remained fervent in the days that followed. She was soon thrilled to learn that Malone would offer asynchronous classes, enabling her to move to one of the few remaining US states she had not visited—Minnesota.
"I chose to go to Minnesota because I wanted to move somewhere new to start my post-undergrad journey,' she said. "I knew this would be a great stepping stone and allow me to keep traveling."
Beyond schoolwork, Hill has an internship as a Social Media Coordinator for WoofPack Trails and she works at Gertens Garden Center and Whole Foods, both large chains retailers in Minnesota.
Her commitment to travel is what drove her to Minnesota, but Hill has realized that none of this would have been possible without the agility of Malone in even the earliest days of the pandemic.
"Asynchronous classes have been awesome! They have allowed me the possibility to explore new places while keeping up with classes and remaining safe," she said. "I've been able to fulfill dreams that I never thought possible."