Zoo & Wildlife Biology majors tag sharks, snorkel with manatees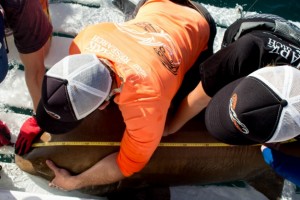 During the break between fall and spring semesters, a dozen Malone community members had the opportunity to join a shark tagging expedition with a team from the University of Miami's Shark Research and Conservation Lab, as well as a time of service to clean up ocean debris. The adventure was generously funded by the Herbert W. Hoover Foundation, which is deeply committed to bridging the gap between Stark County and ocean conservation.
Zoo & Wildlife biology major Kennedy Johnson '19 will never forget the moment she came face- —or make that snorkel- —to-face with a manatee.
"Our entire trip was full of awesome, first-time opportunities," said Johnson. "From meeting the hardworking crew to getting to touch three different species of sharks: the nurse, the black tip, and the tiger. Oh, and we almost caught a hammerhead— a 15-ft. one —but he broke the hook and swam away."
These kinds of experiences are just the type of education faculty Jason Courter and Karyn Collie hope to provide for students who are studying Zoo & Wildlife Biology, Environmental Studies, and Marine Biology at Malone.
"I really enjoyed seeing students' reactions and to see how much they were getting out of the trip," said Collie.
She also was proud of how prepared her students were.
"Before the shark tagging expedition, we watched a slide show, and every single student knew all of the information in the initial slides because we'd covered it in class," she said. "They were well-equipped to jump right in."
Sophomore Kaitlyn Cowley, a Zoo and wildlife major who is pursuing minors in marine biology and psychology, opted for her diving license before her driver's license.
"I really want to work in conservation," she said. "On the last day, we did a beach cleanup, and 16 people picked up 600 pounds of trash in an hour and a half. I've learned here that if you can educate people about issues, they become passionate, too. Seeing those things – like all of the debris – changes our own habits and also influences our friends and family."
Trip participants included seniors Emily Borg, Christopher Evans, Jesse Sockman, and Kim Wise; juniors Sabrina Adams, Erika Cline, Kirsten Miller, and Lindsey Spann; sophomores Kaitlyn Cowley and Kennedy Johnson; and faculty Karyn Collie and Jason Courter.
"Several times during the trip, I was reminded of the far-reaching impacts of the Hoover family legacy," Courter said. "Our hope is that our students are good stewards of this once-in-a-lifetime experience and have many opportunities to share the experiences that they had and the knowledge that they gained with the many people that they will interact with throughout their careers."
Media Gallery
Adventures in Ocean Conservation