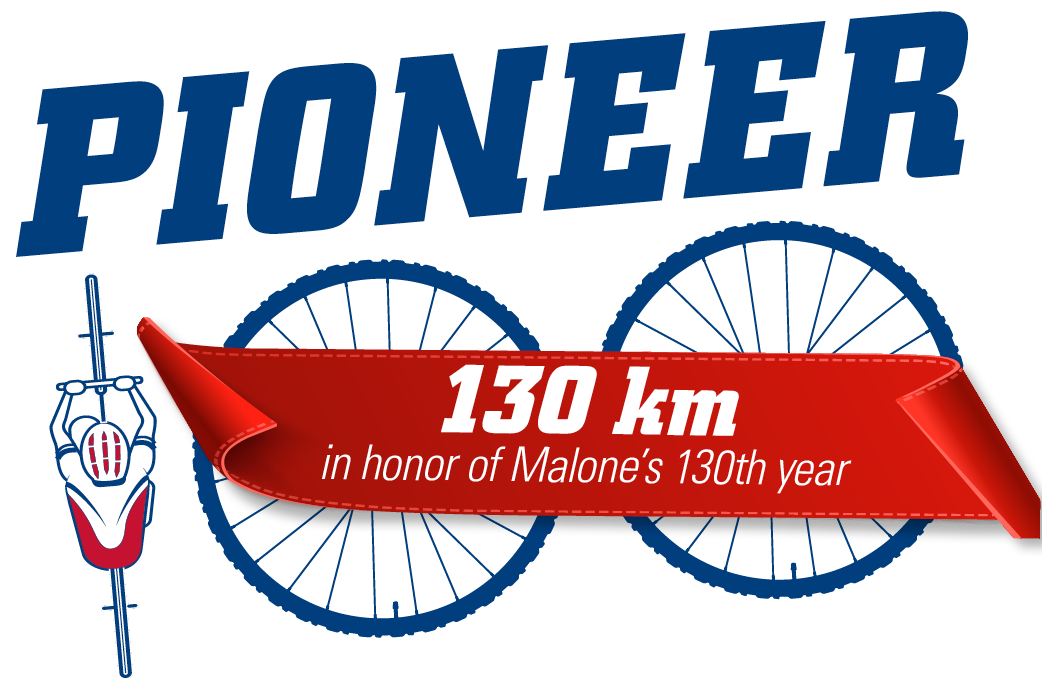 Saturday, September 18, 2021
Our donors continue to ensure that the Malone experience remains transformational and affordable for current and future Pioneers.
President David A. King, an avid cyclist, again dedicated time to personally do more on behalf of Malone students. We had a beautiful day last Saturday for Dr. King's ride for student scholarships on September 18, 2021. For the sixth year in a row he rode 136 km (84.5 miles) through the rolling hills of Wayne County, which took him up and down 4,000 ft. of elevation.
He went the extra mile and so did you. Thanks to those gave their per-kilometer support, we exceeded our $130,000 goal for student scholarships and raised more than $140,000. We are truly blessed to have donors whose gifts continue to allow Malone to enroll students based on their desire to be leaders and disciples of God, and not hindered by their financial limitations.
There is still time to join our supporters by investing in Malone scholarships so that Malone's transformational student experience can be a reality for future Pioneers.
We offer our sincerest gratitude to all of our Pioneer 100 donors:
John R. Sebo
Robert G. Culbertson
Berlin Gardens
Ken Brott
Alice M. Williams
Nancy L. Remus 1976
Donald J. Remus 1976
Brenda K. Smith
Robert E. Ralston 1967
Brenda C. Miller 1970
David A. Miller 1970
David L. Royer
Timothy J. Collins
Marcie E. Curry, CPA 1998
LaMar L. Wyse 1968
Lorena E. King 1964
S. E. Schroll
DeHoff Realtors
Bruce Wilson
William P. Blair, III
Herbert L. Miller 1989
Edward Shipley
George W. Lemon, II 2019
Ronald S. Wilkof
Julie E. Bemis 2004
Ruth A. Raymond 1966
Frank R. Raymond 1966
Ruth A. Mitchell, RN 1952
Edward L. Mitchell 1951
Tina R. Reiman 1985
Brock M. Reiman 1986
Susan A. Grabowski 1991
Marion Coblentz
Barbara J. Hodous 1966
Norman W. Wengerd 2003
Carol K. Vaughn
JHBenefits Ltd
Thomas M. Bernabei
Orrville Cycling & Fitness LLC
Robin Harshaw
Marc R. Harvey 2010
Winnifred L. King
Richard A. Jones 1969
Frederick P. Gibbs
Gerry Chapman
Independent Elevator, LLC
Brandon Bapst 2017
Michael A. Hoops
Bruce Hummel
Environments H.C.
Eddie L. Steiner
Katharina Siemens
Rodney Guiley, JD
Julie C. McAbee
Jacalynn J. Stuckey, Ph.D. 1977
Richard D. McLean 1967
Richard A. Brown
Donald A. Andres 1967
Douglas L. Swartz 1982
Davis E. Baker 1976
John P. Flad 1968
Arthea B. Lucas 1967
James H. Frederick 1969
Jennifer A. Skruck 1992
Eldon King
Emil Alecusan
Mary A. Beck
George E. Bender
Timothy G. Henline 1979
Dudley S. Blossom, III
Walter E. McNutt 1971
Myron J. Weaver 2001
Phyllis A. Kreider 1973
Janelle M. Lee
Tim Bryan
David C. Kaminski
Thomas W. Waalkes
Maryjane C. Bailey 1966
James F. Yonally
Shane J. Leyda 2014
Steven P. Garrott 2000
Roberta J. Corrin 2000
John A. Frenz 1963
Lynn A. Pierce
Jessica L. Schenk 2005
Clifford Schenk
Anita J. Pittenger 1977
Richard S. Pittenger 1976
Judith L. Smith 2001
Albert H. Smith
Arthur B. Cressy 1968
Paula C. Cressy 1966
Alice Bailey
Rebecca A. Baker 1994
Kenneth D. Baker 1971
Shaye E. Hicks 2004
Patrick S. Roberts, Ph.D.
James A. Stonkus
Betsy Carpenter
Heather E. Coontz
Linda K. Moore
Thomas E. Henry 1973
Michael Benson
Douglas P. Weingart 1982
Delbert Groff
G. L. Gerig 1975
Carol A. Evans 1992
Robert R. Dean
Megan J. Mauck 2016
Timothy E. Robison 1995
Stacy J. Doak 1998
C. P. Johnson 1951
Ivar C. Johnson 1951
Dwayne A. Wohlheter
Carolee C. Vanicek 2006
Andrea L. Arnold 2000
Kenneth A. Porz 2011
Robert A. Cireddu 2018
Juanita Martin 1968
Megan E. McElrath 2013
Brenda Myrthil
Edward J. Daugherty
Patricia J. Daugherty
Wilma J. Grams 1954
Robert L. Grams 1956
Dale A. Young 1969
Join Dr. King and go the extra mile on behalf of our students. Make your gift today.
DURING THE 2020-2021 ACADEMIC YEAR:
We devoted more than $16M in financial aid for our student body

Nearly 100% of Malone students received some form of financial aid