Woolman, Whittier, & Fox Halls
Woolman, Whittier, and Fox (WWF) are three traditional women's residence halls joined together. WWF typically houses mostly freshmen as well as many upperclassmen women. Rooms vary slightly in size. These rooms are doubles, meaning that they house two women. Each corridor shares a large community bathroom and each floor has a common lounge. WWF has no air conditioning. There is a laundry room on the first floor of Whittier Hall that is free to all residents of WWF.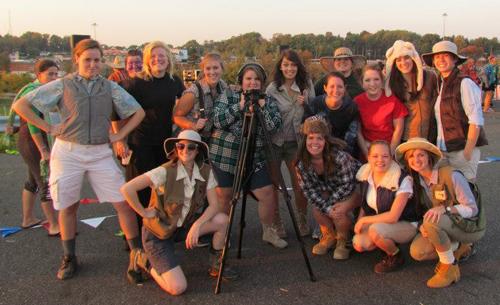 Programs in WWF
Fall Harvest Party
A celebration at the end of October to enjoy everything we love about Fall--bobbing for apples, a caramel apple bar, cider, and leaves! Residents gather in our unique shared lounge, Myers' Lounge, and take part in fall activities. You don't want to miss this!
Meet the Staff
RESIDENT DIRECTOR
"I feel so lucky to be the Resident Director in Woolman, Whittier, and Fox. There is nothing like living in community to bring out the very best in a person. I grew up in Massillon, Ohio and got my BA in Youth Ministry at Malone University. For three years I was a Resident Director at Waynesburg University, got my Masters in Spiritual Formation and Leadership, and then I did a year of Voluntary Service with the Mennonite Church in Denver, Colorado. Finally, I am back in Ohio, grateful to be a Resident Director again. Woolman was my home all four years while at Malone (WWF4lyfe!) and I could never replace the lessons I learned there about myself, my God, and my neighbors. Residence Life allows me space to have those hard conversations with students while they wrestle through the hard questions and moments that college brings, and I love being there to walk through that with them." - Anne Schrock
aschrock@malone.edu
RESIDENT ASSISTANTS
Nicole Albright WL 107
Lauren Millinger WL 120
Audra Edwards WL 207
TaiLi Matheny WL 220
Ashley Krieger WT 209
Grace Rhoads FX 109
Katie Bender FX 208
Jocelynn Lenhoff FX 215
Rebekah Carr FX 225
WWF Room Specifications
Each room contains: a bed, desk and chair, clothes closet and drawers, overhead light, desk light and draperies. Each hall contains a TV lounge, laundry facilities, microwave, water fountains and vending machines.
*See the Residence Life Booklet for more information on decorations and room modification.
Door Dimensions: Whittier-33", Woolman/Fox-29"
Room Dimensions: Woolman-15'6" x 8'8", Whittier-16'6" x 8'6", Fox-15'3" x 9'6"
Window Dimensions: Woolman-37" x 84", Whittier-45" x 84", Fox-52" x 84"
Bed Dimensions: Woolman/Whittier-81" x 36", Fox-79 ¾" x 36 ½" **Bed dimensions may fluctuate slightly. We strongly recommend that you measure your bed frame prior to building your loft.
Mattress: 36" x 80"
Ceiling Height: 8'
Loft Information
If you are interested in building your own loft for WWF or PGB, it must meet the following criteria:
Lofts are to be freestanding, at least 24" from the mattress to the ceiling, and at least 3' away from entrances and exits for a clear, safe passageway.
Lofts may not interfere with any electrical or safety devices.
Lofts may not be larger than two single bed sleep surfaces.
College furniture (including any built in desks) may not be used as part of the support structure for any part of the loft.
Lofts are to be placed in the rooms within the first two weeks of the semester.
Lofts will be inspected and approved by the Resident Director, who will assure all university requirements are met.
All University furniture is to remain in the room and on the floor of the room (no sub-floors or mezzanine levels).
Lofts must also follow the Room Modification guidelines in the Residence Life Booklets.
Loft Permits must be submitted to your Resident Director before the third week of the semester.
---
WWF Floor Plan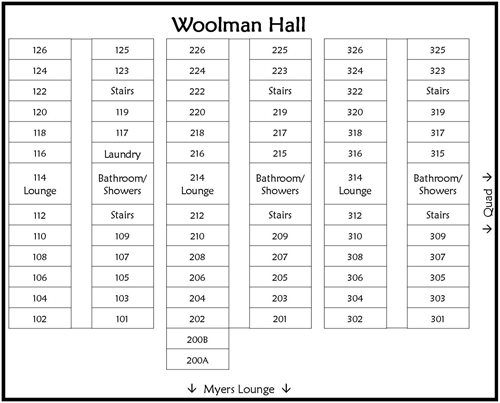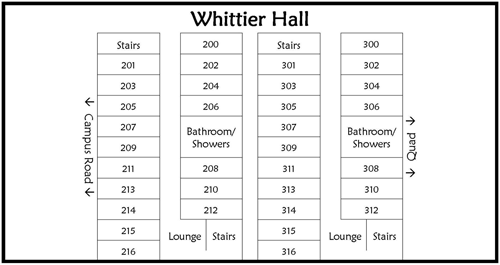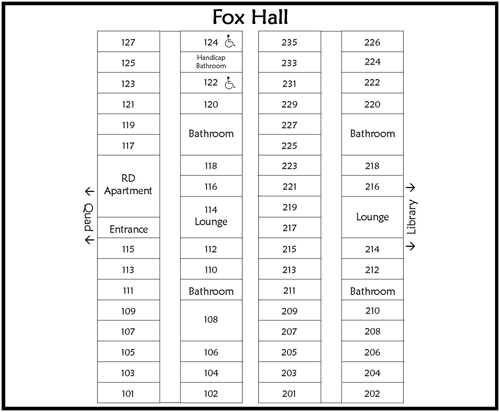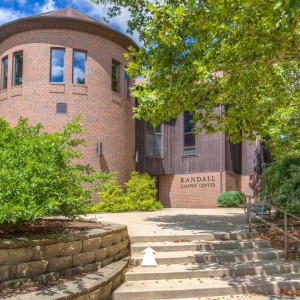 Also available as a guided tour from your smartphone.
Includes 360 degree photos of our campus hot spots!