Woolman, Whittier, & Fox Halls
Woolman, Whittier, and Fox (WWF) are three traditional women's residence halls joined together. WWF typically houses mostly freshmen as well as many upperclassmen women. Rooms vary slightly in size. These rooms are doubles, meaning that they house two women. Each corridor shares a large community bathroom and each floor has a common lounge. WWF has no air conditioning. There is a laundry room on the first floor of Whittier Hall that is free to all residents of WWF.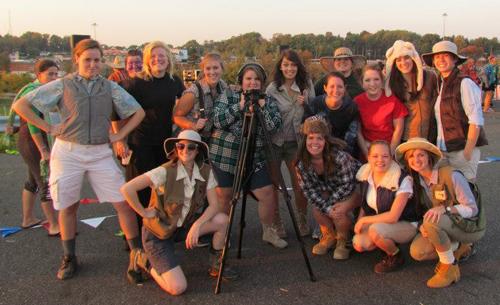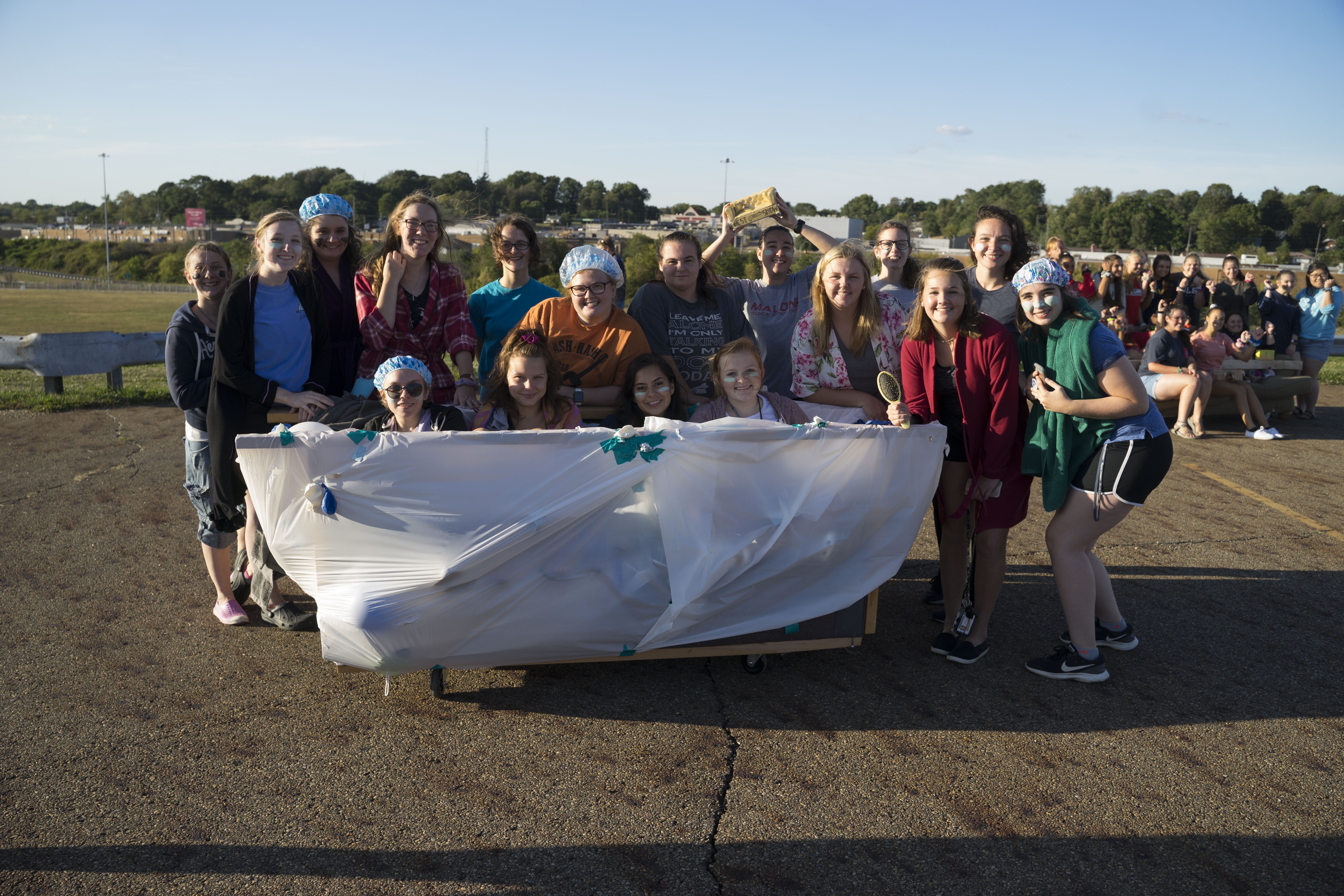 Programs in WWF
WWF has a vibrant community that is strengthened by the large number of building and floor events that happen in the residence halls each month. Along with the floor events that Resident Assistants put on regularly, WWF also has building-wide events that build community with residents from one end of the three buildings to the other.
Fall Harvest Party
A celebration at the end of October to enjoy everything we love about Fall--bobbing for apples, a caramel apple bar, cider, and leaves! Residents gather in our unique shared lounge, Myers' Lounge, and take part in fall activities. You don't want to miss this!
Galentine's DAy
This is a new event between the female dorms on campus! Women from Blossom, Heritage, and WWF come together near Valentine's Day to celebrate female friendship and sisterhood. Come join us for some food, fellowship, and friends!
Meet the Staff
RESIDENT DIRECTOR
"Hello friends! My name is Julia Newton, and I am thrilled to be entering into my third year as a Resident Director at Malone. I am a proud Ohioan, born and raised (go Bucks!), and I graduated from Malone University in 2016 with degrees in English and Global & International Studies. Since graduating, I have had varied work experiences including an internship with a church in Belfast, Northern Ireland before coming back to Malone to serve as an RD. While I was a student, I spent my freshman year in Woolman (WWF4lyfe!) and was a Resident Assistant for two years in Heritage Hall. In my free time you will find me reading anything I can get my hands on, people-watching in public spaces, and traveling international as much as possible. I am so thankful to be part of the beautiful community that is WWF!" -Julia Newton
jnewton@malone.edu
RESIDENT ASSISTANTS
Lauren Millinger WL 107
Katie Fanning WL 120
Jocelynn Lenhoff WL 209
Nicole Albright WT 209
Caitlyn Barrett FX 109
Emily Mauck FX 208
Rebekah Carr FX 225
WWF Room Specifications
Each room contains: a bed, desk and chair, clothes closet and drawers, overhead light, desk light and draperies. Each hall contains a TV lounge, laundry facilities, microwave, water fountains and vending machines.
*See the Residence Life Booklet for more information on decorations and room modification.
Door Dimensions: Whittier-33", Woolman/Fox-29"
Room Dimensions: Woolman-15'6" x 8'8", Whittier-16'6" x 8'6", Fox-15'3" x 9'6"
Window Dimensions: Woolman-37" x 84", Whittier-45" x 84", Fox-52" x 84"
Bed Dimensions: Woolman/Whittier-81" x 36", Fox-79 ¾" x 36 ½" **Bed dimensions may fluctuate slightly. We strongly recommend that you measure your bed frame prior to building your loft.
Mattress: 36" x 80"
Ceiling Height: 8'
Loft Information
If you are interested in building your own loft for WWF or PGB, it must meet the following criteria:
Lofts are to be freestanding, at least 24" from the mattress to the ceiling, and at least 3' away from entrances and exits for a clear, safe passageway.
Lofts may not interfere with any electrical or safety devices.
Lofts may not be larger than two single bed sleep surfaces.
College furniture (including any built in desks) may not be used as part of the support structure for any part of the loft.
Lofts are to be placed in the rooms within the first two weeks of the semester.
Lofts will be inspected and approved by the Resident Director, who will assure all university requirements are met.
All University furniture is to remain in the room and on the floor of the room (no sub-floors or mezzanine levels).
Lofts must also follow the Room Modification guidelines in the Residence Life Booklets.
Loft Permits must be submitted to your Resident Director before the third week of the semester.
---
WWF Floor Plan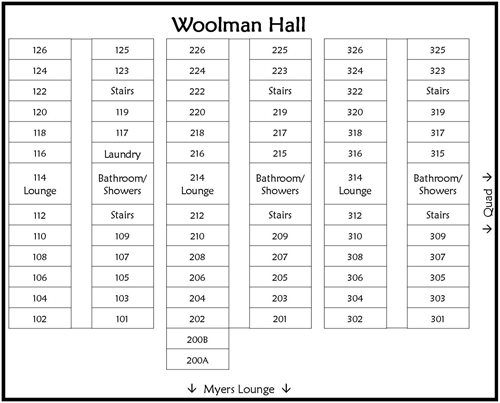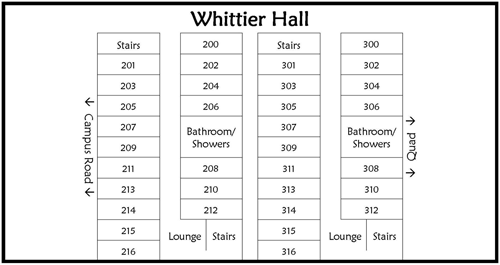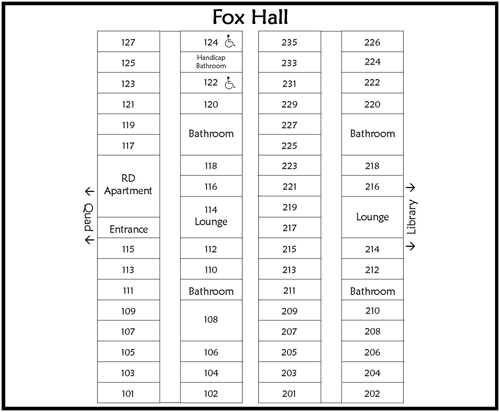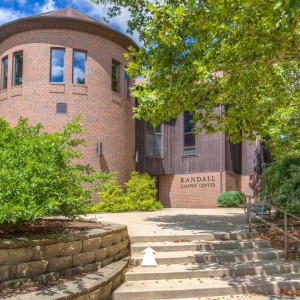 Also available as a guided tour from your smartphone.
Includes 360 degree photos of our campus hot spots!