Alexis Price '22, Social Work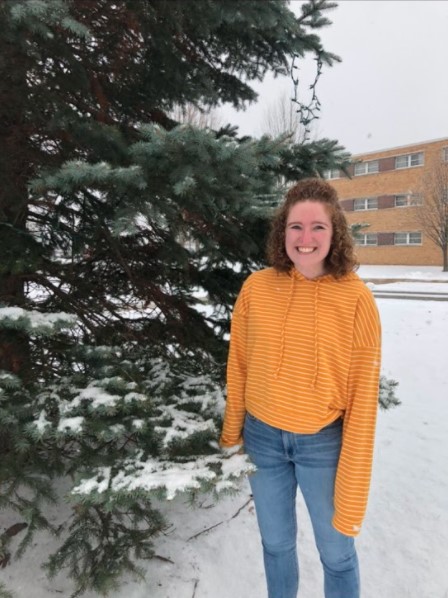 Alexis Price '22 fell in love with Malone the moment she stepped foot on campus. When she visited Malone on Scholars Day, she was impressed by the kindness that the professors showed her and how she felt welcomed around other students when she interacted with them.

"Everybody at Malone is kind and it's easy to make friends," she said. "A lot of doors are open in my residence hall and people always want to hang out."

Price is passionate about loving people, so she decided to major in social work. When someone is experiencing adversity or is facing a difficult decision, she desires to help make their decision-making process easier.

Price's love for Malone and for Christ is evident in the ways she enjoys her free time, too. She works as a tour guide in the admissions office because she loves sharing stories about Malone with prospective students. She also found a niche as a speaker at Celebration, Malone's bi-weekly student-led worship service. Price loves sharing how awesome God is with her peers, and serving as a speaker has taught her to manage uncertainty, since it was unknown before the 2020-2021 school year if the spiritual formation opportunity would even be available for students in light of the opening pandemic.

Price's mentors at Malone have shown her how to be a servant of God who desires to make an impact in society. Steph Merchant, leadership and discipleship coordinator in the Office of Spiritual Formation, has shown Price that there are many ways to serve Christ, and it may look different depending on the situation. During Price's unexpected quarantine in Spring of 2021, Merchant encouraged her in small and tangible ways.

"Steph was so encouraging and intentional about connecting with me while I was isolated and she talked me through my stress when I wasn't calm," she said. "And the goodie baskets she sent me with my favorite snacks were the extra dose of cheer I needed when I was lonely."

As she prepares to launch into her career, Price obtained an internship with First Glance, a youth center in Akron whose mission it is to connect students to Christ.

"This experience is helping me to develop additional skills for my future career, and I love encouraging others to live up to their full potential," she said. "I have also learned that everyone is not led to Christ in the same way and that you must respect who they are. Sometimes the best thing that you can do for somebody is to connect them to resources that can help them."

Do you know a current Malone student who is maximizing their academic potential through hands-on learning opportunities like internships or service to the greater community? Recommend them to be featured in our Student Profiles story series!