Erwin Gutic '23, Business Administration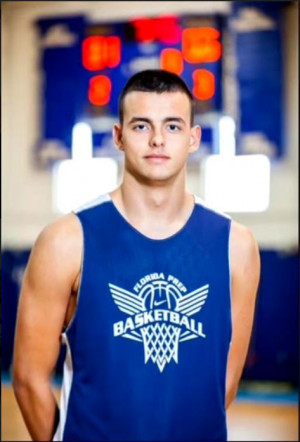 Though Erwin Gutic '23 wasn't directly impacted by the Bosnian civil war, he sees and carries the impact it has had on his country with him. He attended boarding school in the U.S. for his last two years of high school before coming to Malone as a basketball player in a series of unplanned events.
"Coach Miller saw me at a basketball tournament in Pittsburgh," Gutic said. "There were a lot of problems with recruiting my senior year, so I went back to Bosnia without an offer. But Malone reached out; I committed July 7 and I came here on August 4."
Though Bosnia is a developed country, it is poor: many citizens don't have access to resources Americans take advantage of, like school books and lunch money. Gutic is from Sarajevo and sees these struggles and divisions caused by the war first hand. The U.S. is not his home, but he spends 10 months of the year at school and two months in Bosnia, so he has struggled with loneliness.
"My first time going back home was immensely difficult for me," Gutic said. "I had an identity crisis because everyone at home treats me as an American and everyone in America considers me 'the European.' After going back home, you also realize that your friends continue living their lives without you."
Despite the challenges, Gutic has one constant in his life: basketball. He loves the sport and would like to keep playing it for as long as he can, though he doesn't have a clear plan for his future yet.
"I started off as an exercise science major," Gutic said. "I liked Dr. Wirick and the whole department, but it just wasn't what I wanted to study. This semester I declared my major as business because it's the best option for me and I think I could be good at it."
Gutic has just been enjoying the time he has spent with his team and the other students he has met at Malone.
"I appreciate that Malone is small and that people know and appreciate you," Gutic said. "There's a lot of different people at Malone, so I feel like everyone can find something for them if they just look for it."
Do you know a current Malone student who is maximizing their academic potential through hands-on learning opportunities like internships or service to the greater community? Recommend them to be featured in our Student Profiles story series!