Creative writing is an invigorating and expressive process that takes inspiration from art, nature, and experience. The stories and poems that writers make can move us in wondrous ways, the writing life begins simply enough: with space, and time, and practice.
That's exactly what the Creative Writing Camp will provide for high school artists determined to learn more: a week of expert classroom instruction and workshops, dedicated writing time, and inspiring trips to a variety of settings, capped off by a public reading of their own works. Enjoy an intensive, challenging, but above all fun week free of distractions where you will develop your gifts, meet fellow writers, and be mentored by established, working authors.

Do you want to write? Then, write!
When: June 18-22
Who: Students entering grades 10-12
Cost: $425 (includes meals, lodging, t-shirt, and transportation/admission to activities)
Check out the flier for Creative Writing Camp!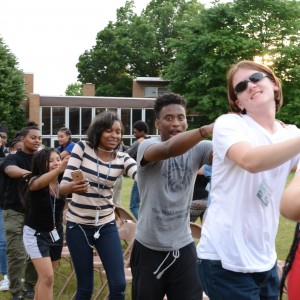 Register for an Academic Summer Camp today!
The registration deadline for all academic camps is Friday, May 26 and seats in each camp are limited.