High School sophomores, juniors and seniors who participate in the Youth on The Way Leadership Academy will:
1. Learn to appreciate the nature and importance of theological reflection for Christian life and ministry

2. Learn the scope and beauty of God's redemptive mission through an exploration of The Way of Christ in the context of biblical themes such as creation, fall, redemption, and consummation

3. Consider spiritual disciplines, and especially prayer and worship, as gifts of grace that draw persons into The Way of Christ and his body, the church

4. Foster a deeper appreciation for the moral vision of Jesus Christ and his followers

5. Be encouraged to know themselves (their hopes, desires, fears, and gifts) in relation to God and from within the context of the biblical story

6. Gain a broader understanding of how various ministries of word and sacrament, social justice, counseling and compassion, creation care, and much more complement one another in The Way of Christ

7. Develop a clearer sense of what it means to be called and a greater desire to join in the work and wonder of God's redemptive mission
Purpose
Helping teenagers to become highly devoted Christian leaders is a key aim of our academy. We will study the narrative of Scripture, including creation, fall, redemption, and consummation. In addition, we want to help teens recognize the important role of the church in living out the God-story. A life of sacrificial service is a key component of the life of discipleship. We will not only talk about the life of service, but we will send these youth back to their home churches with a charge to develop a service project in their communities. Our hope is that as these youth begin to develop their leadership skills and portray a living example of discipleship, it will invigorate the faith of other youth in their churches as well.
Mission Statement
The "Youth on The Way Leadership Academy" will help churches nurture the next generation of Christian leaders by providing high school sophomores, juniors, and seniors with (1) an advanced and compelling exploration of The Way of Christ as understood in the biblical story and Christian tradition, (2) instruction and mentoring from local Christian leaders serving in a variety of ministries, and (3) an exploration of their calling and gifts as they consider how the lens of faith shapes their vocation.
This camp is funded by a generous donation from the Lilly Endowment.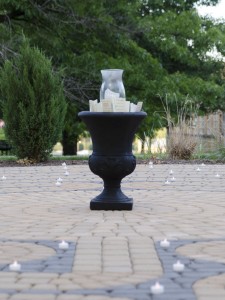 Youth on the Way 2018
Participant Testimonial
Leaders need to be led and taught how to lead, so this opportunity to learn from leaders and prepare for leadership opportunities is awesome!