Human Resources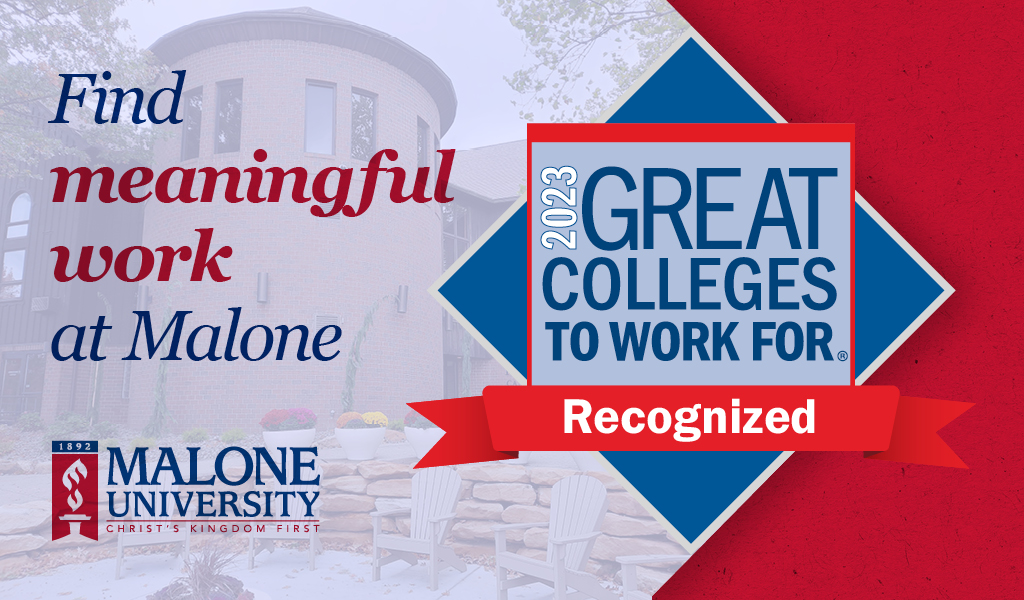 Job opportunities
Malone University is northeast Ohio's Bible-based university-- a relational community that is rooted in Jesus Christ-- and we invite you to consider joining us in the meaningful work of serving Christ's Kingdom First.
To explore the current position openings at Malone, refer to the side navigation on the right-hand side of this page. If you are interested and qualified for one or more of the available positions, please follow the application instructions listed on the position description pages. The application can also be found here*
If you are applying for a faculty position, please use this application.
*The application is a fillable pdf, but electronic signatures will not be accepted. Please complete the form, print and sign, then return to jobs@malone.edu
Benefits overview
Insurance
Medical Insurance
Must work 30 hours or more per week to be eligible.
Coverage is effective on date of hire. Participation is voluntary.
Plan Options
Aultcare (PPO)
Dental Care Plan
Vision Care Plan
PPO in network coverage is 90/10% and out-of-network is 80/20% (with a higher deductible).
Dental Insurance
The dental care plan requires same eligibility as medical insurance (a separate deductible applies).
Vision Care Plan
The vision care plan requires same eligibility as medical insurance (a separate deductible applies).
Other Benefits and Services
Flexible Spending Plan
"FlexPlan" enrollment is optional. This plan allows pre-tax dollars to pay your Medical/Dental/Vision plan contribution, any eligible out-of-pocket health care costs, and dependent care costs.
Life Insurance
Must work 30 hours or more per week to be eligible. Coverage begins based on eligibility requirements. Premium paid by the University. Supplemental insurance (premium paid by the employee) is offered each year during open enrollment.
Disability Insurance
Must work 30 hours or more per week to be eligible. Coverage begins based on eligibility requirements. Plan provides monthly disability benefits following six months of continuous total disability. Premium paid by University.
Defined Contribution Retirement Plan
The Plan is available to full-time employees who meet the eligibility requirements.
Social Security
The University participates in the Federal Social Security program. All employees are automatically included. Details for all Social Security administered benefits are available through the local Social Security Administration Office.
Workers' Compensation
All employees (including part-time) are protected on the job under the Ohio Workers' Compensation laws.
Payday
Payday is the 15th and last working day of each month. Though most faculty contracts are of nine months duration, the annual salary is paid over a twelve month (24 pay) schedule. Automatic direct deposit of paychecks is required.
Withholding Taxes
Tax withholdings include State and Federal on a graduated scale.
Tuition Remission
Tuition remission benefits will be offered on an equal basis to eligible faculty, staff, and administrators. Adjunct faculty and other ineligible employees do not meet eligibility requirements. Tuition remission benefits may be offered to certain relatives of an employee based on eligibility requirements.
Business Office
Hours are Monday - Friday, 9 a.m. - 4 p.m. Personal checks may be cashed up to $100.
Credit Union
All Malone University employees are eligible to join the Canton School Employees Federal Credit Union. Memberships and information regarding services may be obtained by contacting the Credit Union office located at 1380 Market Avenue N., Canton, or 6879 Whipple Avenue N.W., North Canton, 330-452-9801.
Campus Mail Service
The mailroom is located in the Brehme Centennial Center. There are three campus-wide delivery/pick-ups provided daily. Additional services include postage stamp purchases, UPS services, Next Day Air, Federal Express, certified delivery, and bulk mailings.
Campus Programs
Season passes are sent annually to all employees for admission to Malone's athletic events which are held on campus. Invitations are sent throughout the year offering tickets for other events such as concerts, lectures, plays, etc.
Dining Commons
Located in the Centennial Center, meals may be purchased through the cafeteria at the discounted employee rate and eaten in our dining room during the posted dining hours. Family and other guests of employees are also welcome to use our dining facilities at visitor's rates.
Library
A photo ID card is issued to all employees which entitles you to use the Everett Cattell Library on an unlimited basis.
The Malone University Campus Store
Located in the Centennial Center, the Campus Store offers employees a 15% discount on many items with the exception of textbooks, school/office supplies, and food items.
Parking
Employee vehicles are accommodated in our Faculty-Staff parking lots without charge. An official hang tag is issued to new hires by Campus Safety.
For a replacement hang tag or other questions and inquires, please contact Campus Safety at 330-471-8251.