Program Structure
There are three ways to get an MBA degree at Malone:
Online - Finish in 20 months
In Classroom - Finish in 24 months
Finish your MBA in just ONE year
In the Classroom
One night a week for 24 months
Small, personalized classes of 15-25 people
Easy to manage - one course at a time, in five to eight week sequences
Convenient - one night a week
The campus is centrally located near major thoroughfares, making it easier to get to class right after work.
Online
Finish in 20 months
Four semesters with six credit hours and one semester with 12 credit hours
Same instructors as on-campus courses
Flexibility to meet your life and schedule
ONE YEAR
Finish in three semesters
Take 12 hours per semester
Take no more than two courses at the same time
Take one class on-campus and one class online
How will this help my career?
Earning your MBA will not only expand your knowledge base, but it will also give you the credentials to potentially move upward in your career. Here are a few examples of careers for MBA graduates:
Financial Manager
Management Consultant
Sales Manager/Director
HR Director
View course curriculum
Each course and its description is listed in the official Academic Catalog.

Once in the catalog, you can use the buttons (pictured left) located at the upper right of the page to plan your courses, save courses to your own personalized catalog, print them, and more!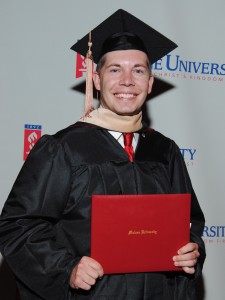 "The MBA program will teach you new ways to approach situations and problem solve. If you want a high quality education that will immediately set you apart, Malone's MBA is the direction to go."
Malone University's MBA program is accredited by the Accreditation Council for Business Schools and Programs (ACBSP).
* The Accreditation Council for Business Schools and Programs (ACBSP) is a leading specialized accreditation association for business education. The association embraces the virtues of teaching excellence and emphasizes to students that it is essential to learn how to learn. ACBSP acknowledges the importance of scholarly research and inquiry and believes that such activities facilitate improved teaching. Institutions are strongly encouraged to pursue a reasonable mutually beneficial balance between teaching and research. Further, ACBSP encourages faculty involvement within the contemporary business world to enhance the quality of classroom instruction and to contribute to student learning.