Find your purposeful and meaningful career understanding and following God's calling in your life.
Become a part of a program that will give you a better understanding of the Bible, teach you the history of Christian thought, and help you learn about theological doctrines. Our professors come from a variety of Christian faith traditions, opening doors for you to study, experience, and appreciate a wide variety of denominations and worship styles. All students following God's call to missionary service, pastoral leadership, preaching, and teaching are encouraged to pursue this major.
Program distinctives
Discover a deeper understanding of the Trinity through study of the Bible and theology while also learning the tools of practical ministry.
Gain admission to prestigious graduate programs including Princeton Theological Seminary, Duke Divinity School, Fuller Theological Seminary, Asbury Theological Seminary, and Trinity Evangelical Divinity School.
Feel a lifelong belonging in a spiritual learning community of students, professors, and graduates.
Internships
Malone's theology programs involve internships in the fields where you'll eventually seek employment. Our professors help connect you with local churches and para-church organizations throughout the Northeast Ohio region—and you are welcome to select other internships throughout the nation or world! Our students have interned at large and small churches. Just a few include: The Chapel, First Friends Church, Rivertree Christian Church, and NewPointe Community Church.
Learn more about internships at Malone
View course curriculum
The Bible & Theology major curriculum is listed in the official Academic Catalog.

Once in the catalog, you can use the buttons (pictured left) located at the upper right of the page to plan your courses, save courses to your own personalized catalog, print, and more!
Bible or Theology minor
Students who are majoring in another program may choose to take a Bible and Theology minor in addition to their primary course of study. A minor normally consists of a minimum of 15 semester hours, six of which must be taken at the 300/400 level. Each academic school or department must approve the student and curriculum to be used in the completion of each minor for the Office of the Registrar to verify at the point of graduation.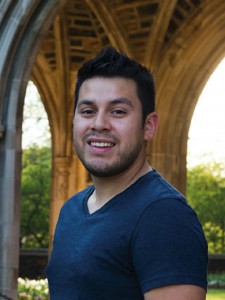 Alumni Profile
Gabriel Lopez
After graduating from Malone, Gabe enrolled at Duke Divinity School, where he is pursuing his M.Div. degree. He has a ministry tutoring Hispanic children struggling with the English language barrier.