As a transfer student, you are searching for the right place to complete your education.
Transfer students are welcomed at Malone!
We recognize that students transfer for many reasons: distance from home, to be near friends, for a change in a major, to find a fresh start, or to feel connected. No matter your reason for transferring, we will help you find your home away from home... right here!
It is easy to #getoknowMalone: schedule your visit, bring your transcripts with you, and let us show you how Malone can prepare you for your professional future, and for life.
Did you know...?
Each year, approximately 20% of new Malone students are transfer students
98% of our students receive financial aid
Malone's student-to-faculty ratio is 12:1
Our students represent 32 states, 9 countries, and more than 40 denominations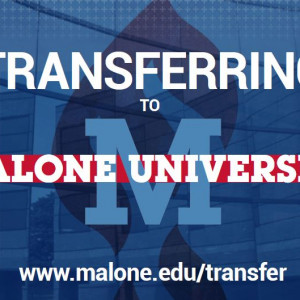 Want a quick guide to FAQ and a list of programs to choose from?
Malone University prides itself in being a community that values the integration of faith and learning. You'll be challenged to ask good questions, and pushed to think in new and different ways. You'll be called to embrace a pursuit of knowledge that explores the larger world and your place in it with courage, integrity, joy, and wonder.
We believe that you will thrive academically and spiritually when you are plugged into a community that feels like home.