Christianity and the American Founding
Wednesday, March 23, 2022 – 7 p.m.
Johnson Center 106
The exact relationship between Christianity and the founding of the United States has been debated since the beginning of the nation. Since that relationship touches on issues of faith, religious freedom, national identity, morality, the nature of civic engagement, and more, it is still alive and relevant today.

To better understand these issues, two historians will discuss whether or not they think the United States was founded as a Christian nation.

John Fea is Professor of American History and Chair of the History Department at Messiah University. He is the author or editor of six books, and his essays and reviews have appeared in a variety of scholarly and popular venues including Was America Founded as a Christian Nation: A Historical Introduction (Westminster/ John Knox Press, 2011).

Mark David Hall is the Herbert Hoover Distinguished Professor of Politics at George Fox University. His primary research and writing interests are American political theory and the relationship between religion and politics. He has written or co-edited twelve books, including Did America Have a Christian Founding? Separating Modern Myth from Historical Truth (Nelson Books, October 28, 2019).

Our moderator for the evening is Jay Case, Professor of History at Malone University.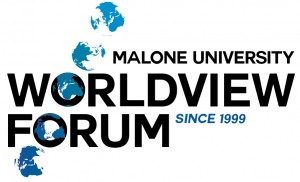 The intent of the Worldview Forum Series is to provide the community with the opportunity to practice critical thinking and civil dialogue in the comparison of various worldviews in a professionally moderated, academic environment. It is expected that the forums will help those who attend learn to identify the constituent elements of differing worldviews as well as their implications upon belief and practice. Past topics have included discussions between Muslims and Christians, the commonalities between the Catholic, Orthodox, and Protestant faiths, just-war and pacifism, homosexuality, pagan religions, and much more.