ACTS OF MERCY. Alum witnesses life-changing transformations as Mercy Ship nurse
Mercy Ships is, essentially, a floating hospital - a Christian organization that docks in countries to provide free medical care, including surgeries such as facial tumor removals, plastic surgeries for burn contractures, orthopedic surgeries to make children's legs straight, cataract eye surgeries, and a variety of other general surgeries to removal lumps and bumps.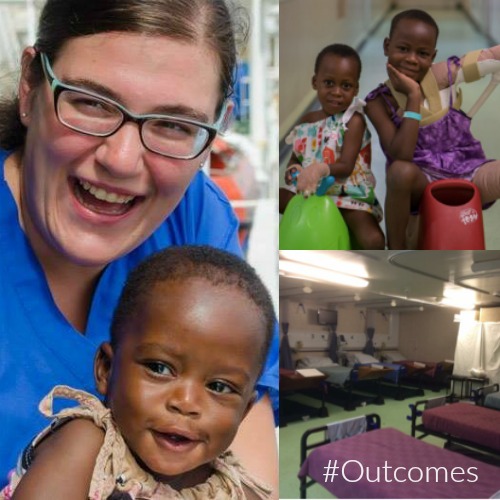 Since 1978, Mercy Ships has performed more than 82,000 lifesaving surgeries and has docked in 589 ports (and counting).
As a nurse for Mercy Ships - The Africa Mercy, Michelle Scalley '12 gets to frequently witness life-changing transformations.
"I see people come in before surgery so scared and sad for many different reasons but mostly because they have been pushed away from their communities because they look different, and then they have a change in their body but also their hearts," said Scalley. "They are no longer scared but full of joy and laughter. To see that transformation on the outside and inside is something very special."
The ship Scalley is on is docked in Benin, West Africa, which is where she has been since September. She will remain there until late December. As a surgical nurse, her unit performs mostly hernia repairs and removals of lipomas and goiters. However, the ward also gets the overflow patients of the plastic surgery wards - mostly pediatric victims of severe burns, who spend at least a month on the ship so that they can have their dressings changed and monitored.
"It's been a great (and sometimes challenging) time playing with them and keeping them entertained as they spend about a month with us on the ship so they can have their dressings changed and monitored regularly," she said. "The patients and caregivers get to go up to the upper outside deck for one hour each day, but other than that, they have to stay in the hospital in the windowless rooms. They are stir crazy and I don't blame them, but they are thankful nonetheless. The kids give so much love and that has been a beautiful thing to see here that we as nurses don't seem to see as much of in the States."
Scalley said she felt well-prepared for this exciting adventure.
"Living on a ship community has very much felt like my time living at Malone," she said. "And Malone's nursing program has taught me lessons on holistic nursing, which is very much integrated here on the ship."