Alumna impacts the community through art and art education
Libby Doss '09, adjunct instructor for visual art at Malone and development director for the Canton Museum of Art (cma), has always found ways to spark happiness through her education and museum work. A Portsmouth, Virginia native, she believes it is her calling to connect people with art and to make art accessible to others, and she is thrilled to continue doing just that in Canton.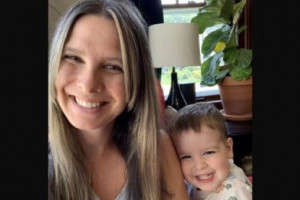 "I grew up in a wonderful Friends church in Portsmouth. I knew I wanted to attend a Christian college with a close knit environment - but I initially thought I'd stay closer to home," said Doss. "After hearing about Malone through my childhood church I decided to reach out. I was able to meet the awesome art faculty (Barb Drennan, Clare Murray Adams, and Chris Craft) and they solidified my choice. I majored in Fine Art with a double emphasis in Painting and Fibers, and graduated in 2009 - the first graduating class from the 'University' instead of 'College'."
Doss interned and volunteered at every opportunity she had throughout college and graduate school.
After graduating, her office job had late days on Tuesdays, so in addition to weekend work, every Tuesday morning she volunteered at the Massillon Museum. Doss taught art workshops and classes on the side. Shortly after, she served as a K-12 art teacher at Kingsway Christian School in Orrville, Ohio, and continued volunteering at MassMu.
"This led to my first museum job there with an amazing mentor for whom I had previously interned as an undergrad and admire greatly, Executive Director Alex Nicholis Coon," said Doss. She also taught for a preschool arts immersion program in Canton City public schools - the Artful Living and Learning Program.
Upon finishing her graduate coursework at the University of Akron, Doss' husband's job moved them to Pittsburgh.
"There is a fantastic cultural community there, and I had a great experience working at the Frick Pittsburgh, and as a teaching artist at the Children's Museum of Pittsburgh, and also teaching art at a boutique art studio, Hatch," said Doss. "When our son was born in 2019, my husband was transferred back to the Canton area and we knew we wanted to raise Owen near at least one side of the family. Since he was born, I have worked part-time doing interior design for a home-building company, teaching for Artful Living again, and serving as an adjunct at Malone. This August, I also went back to work full-time, at the Canton Museum of Art."
Once a Malone student, Doss hopes to impact her students as she was.
"Art has always been an inspiration to me," she said. "I went through some difficult circumstances as a student and I always found solace in the art studio. Creating and making art can be empowering and transformative. I hope I can help my students process life through their art like my professors did for me."
Doss intends to integrate her experiences with the Canton Museum of Art into her teaching at Malone.
"In both positions, I am fortunate to connect people with art," she said. "I hope to inspire people to get involved in art (and the arts) in our community in Canton. When I was a Malone student, getting involved in museum work helped broaden my horizons, grow as an artist, and build relationships. I look forward to facilitating connections between our students and the museum and art community in Canton."