Alumna's faith in action leads to 'miracle after miracle'
When Barry and Angela Lin came to the United States from China 14 years ago, they were seeking freedom and opportunity.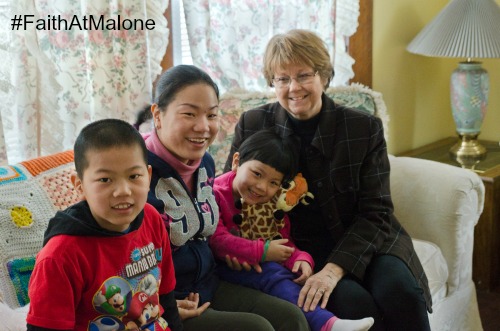 They found that. They also found a new faith, a new community, and a new family.
In 2012, the Lins moved to Alliance to open a restaurant, Panda Gardens. New believers, they began attending Alliance Friends Church, pastored by Rick '75 and Joyce (McElroy) Sams '75, who have served there 38 years.
The Lins bought a modest fixer-upper – their first home. It had a lot of potential, but needed a lot of work.
They hired a local contractor who was a regular customer at Panda Gardens – he ate there several times every week – to do the work on their house. The couple began paying him for supplies and other demands, to the tune of $57,000. Their entire life savings. The contractor did some work on the home, then walked away, leaving it in complete disrepair.
Distraught, Barry and Angela began praying.
"'Tell the Church,' God told me," Barry said. So he did.
Joyce isn't normally in the Lin's service, but that December morning in 2013, she was. And for weeks after, their story never left her thoughts.
"God made it clear that I was to help them," Joyce said. "I heard, 'Be obedient, and you'll see miracles.' And we did see miracle after miracle."
More than 100 volunteers – spearheaded by Joyce, the church's young adults, and general contractor (and church member) Mitch Trummer – helped the Lins restore their home. Via social media and community networks, $26,000 was donated.
The Lin family moved into their new home in March of 2014.
"Grace built this house," said Angela. "And God brought family to us. Before, there were only four in our family. Now, our family is huge with lots of people who love us."