Ambition and innovation to help local businesses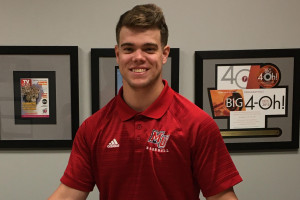 Stone King '21 knows how to make the most of opportunities that come his way. Prior to quarantine, he had a job with Doordash- a food delivery service. When COVID-19 hit and changed the way that restaurants operated, King used the knowledge he gained from his job and came up with an idea for a food and beverage safety program. He then took the next step and approached Paragraphics with his idea.
Paragraphics is a graphic communications company dedicated to traditional offset printing, digital printing, and mailing and fulfillment services. They loved his proposal and offered him a summer internship as a Food and Beverage Specialist. As an incoming senior majoring in exercise science with a minor in marketing, they knew he had the skills to execute this program.
King's job duties include seeking out restaurants, bars, and other food and beverage establishments that may be interested in using disposable menus or food-safe stickers to seal to-go boxes.
"I enjoy this role because it allows me to help restaurants in the community during these troubling times," King said. "I also enjoy being challenged every day to be the best I can be."
While exercise science and graphic communications do not have a lot in common, King has found ways that the two can connect from his education into his future career.
"Malone has already opened doors for me in the sales world. With my exercise science degree, I hope to move into medical sales," he said. "Through this internship, I am hoping to gain sales experience in addition to other business skills that will prepare me for the future."
King has a deep appreciation for the local company and the services they provide.
"I thank Paragraphics for this great opportunity, and I hope I can continue to help them out by bringing them business and new ideas. It's a great local company to work for and everyone is always looking for ways to help me," he said. "I truly feel like part of the family-like culture that has been established there."