ART AND OUR MESS. Students learn how God interacts with broken humanity
A new Spiritual Formation Opportunity (SFO) was launched this semester called "Art and Our Mess," led by local artist Karole Longbrake.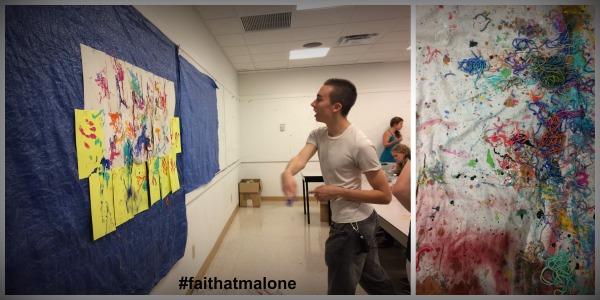 The goal of each session is not to learn art techniques, but to enjoy art for its therapeutic value while discussing how God interacts with broken humanity.
"The idea for an art-related group came from my conversation with a current student who rarely has time to do art for himself," said Longbrake. "I wanted to create a space for students to do art for the fun of it."
The theme for weekly discussions was inspired by the Typically Hazardous podcast about "sacred messes," and the group will discuss topics such as:
How to own the mess in your life
Why God doesn't give up on us when we create messes in our lives
Letting go of perfectionism so God can be glorified through our mess
"I feel honored to be chosen to work with this amazing group of students," Longbrake said. "They are so receptive to what I have to share, and they've been open to dialogue about the areas of our lives where God wants to lean in and have a conversation with us."
The SFO has consistently hosted a crowd of at least 35 students since the semester started, and students are looking forward to making messes with charcoals, colored pencil, paints, and food products as mediums to utilize during weekly discussions.
"At the end of each session, I clean up the mess left behind from our activities, because that's what God does for us," Longbrake said. "I want to tangibly show God's grace to Malone students through a simple act of service."