BSN graduates pass newly updated NCLEX exam at a 100% pass rate
It's with great excitement that Malone University announces an NCLEX pass rate of 100% on the first attempt for the 2023 class of Bachelor of Science in Nursing (BSN) graduates! According to the National Council of State Boards of Nursing, the 2022 national average pass rate for the National Council Licensure Examination (NCLEX) was 79.9 percent. The 2023 results will be available in early 2024.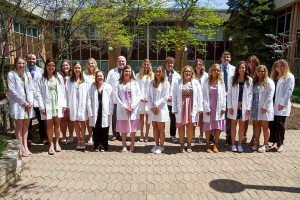 This is the fourth time in Malone's history that every graduate passed the NCLEX on their first attempt – the first achievement occurred in 2005. This year's success is particularly noteworthy as the examination was revised last April into the Next-Generation NCLEX. This transition incorporated many new test item formats designed to evaluate skills in clinical judgment and decision-making.
"We are so very proud of these newly licensed registered nurses and the hard work they put in throughout the program," said Carrie Stroup, DNP, associate professor and Chair of the Department of Nursing. "We cannot wait to see the impact they make in their professional journeys as they live out their callings."
"This is an exciting time to be teaching and discipling nursing students at Malone," said Greg Miller, PhD, president. "In a post-COVID 19 world, they are eager to learn and motivated to serve both their patients and their employers in ways that give hope to a hurting world. I look forward to seeing how this next generation of Malone nurses makes a difference on behalf of Christ's Kingdom."
Providing patients with exceptional care and Christ-like compassion are hallmarks of Malone's nursing curriculum. Malone's BSN program is accredited by the Commission on Collegiate Nursing Education (CCNE), approved by the Ohio Board of Nursing, authorized by the Ohio Department of Higher Education, and holds memberships with the American Association of Colleges of Nursing (AACN) and the National Organization of Nurse Practitioner Faculties (NONPF).