Business Administration student creates nonprofit to enhance his community
Before ever graduating from high school, Jalen Turner '22 created a nonprofit organization because he wanted to make a difference in his community. Restoration Community Care Center was launched in 2014 to help those in poverty in Stark County and surrounding areas by providing them with everyday necessities.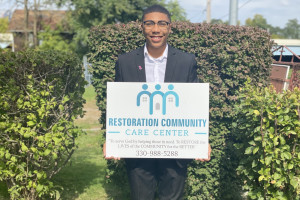 "I love helping and serving others and have a heart for the less fortunate, so providing tangible help in my community is what I want to do," said Turner. "Restoration Community Care Center hosts several programs and events each year to further our mission, which is 'To serve God by helping those in need; and to Restore the lives of the community for the better.'"
Turner has ambitious goals for the future of Restoration Community Care Center, including the annual Day of Giving fundraiser, a Soul Food Dinner (a community favorite), and an annual donation drive.
"My eventual goal for the future of Restoration is to open a transitional homeless shelter," he said. "I want us to house homeless men, women, and families in three separate facilities and help them rebuild their lives. We could offer services like job training, counseling, educational programs, and health programs to help them get back on their feet. A food pantry, soup kitchen, laundromat, computer lab, and onsite fitness could also be available. All residents would be required to work because I believe that's an important part of developing the confidence to rebuild their lives."
Faith is important to Turner and he hopes to impact others through his walk with Jesus.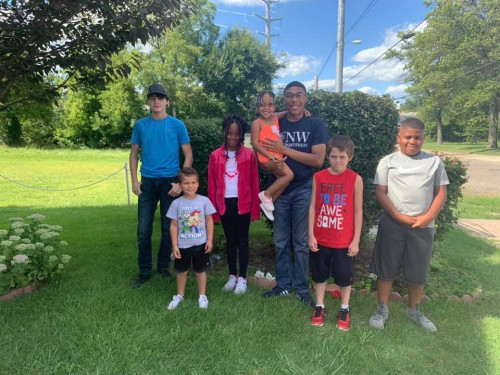 "My faith teaches me to help, serve, and love others," said Turner. "A servant leader is a traditional leader, but with a different approach. A traditional leader's main focus is the business, focused on improving sales, its market, or business positions. A servant leader focuses on their people before business, helping the team grow, providing guidance, direction, motivation, and inspiration. They are good listeners, aware of the concerns and joys their employees are experiencing, are committed to being good stewards, and are community-oriented. My faith plays a huge role in my desire to be a servant leader because loving others regardless of how the business is doing will help us stay true to our mission and purpose."
Turner has incorporated what he's learned from nonprofit leadership into his studies at Malone.
"Running a nonprofit has helped me build a strong resume," he said. "I've learned how to lead others, adapt to change, make difficult decisions, and deal with conflict and I take college more seriously. At Malone, I've learned how to apply my faith to work and make ethical decisions based on what's morally right versus what society says is right so that I can continue to refine my leadership style. Leading Restoration has encouraged me to learn as much as possible while I'm at Malone so I can be a successful leader early in life."