Co-owner of a local pizza shop wins Teacher of the Year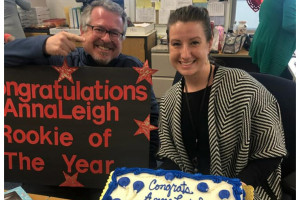 In the minds of many, teaching full-time and small business ownership would be difficult for one person to balance. But for AnnaLeigh Oakes '20, they are life-giving. Part-owner of Don Brand's Pizza in Canal Fulton and this year's recipient of the Education Celebration Rookie of the Year Award in the Tuslaw district, Oakes embraces the lessons she has learned from both endeavors.
Oakes originally wanted to major in education, but eventually chose to get a bachelor's degree in English instead. At the same time, she also had an opportunity to pursue part ownership of Don Brand's Pizza (Don Brand *67 also attended Malone; she had been employed by him for seven years) so, upon graduation from a local university, she chose to take that route.
"After 14 years at Brand's, the teaching bug bit me again," she said, "but I wasn't sure if I wanted to invest in the additional schooling to make it happen. So I decided to start substitute teaching, just to see if the passion was really there for me."
Her expanding network of education colleagues introduced her to a staff member at the Stark County Educational Service Center (ESC) and she began doing student teaching observations with Malone.
"My mentor asked me why I wasn't a full-time teacher, then told me I could invest in both passions at once: teaching and pizza!" she said. "So I chose to enroll in Malone's Master of Arts in Education and earned a license in Adolescent Young Adult Integrated Language Arts."
So, while Oakes worked on the master's degree and licensure, she maintained her role at the pizza place, but with reduced hours.
"Brand's is my home away from home and a place where I find routine," she said. "It's my stress-reliever, to be there making pizzas and chatting with customers. Teaching requires a lot of mental focus, but the physical exertion and social interaction I find at Brand's helps balance out my mind and body. Also, the pizza is amazing!"
A seventh grade language arts teacher at Tuslaw Middle School, Oakes focuses on building relationships with her students first and foremost.
"I find it easy to get to know my students because they're willing to have serious conversations with me and be silly, all in the same day," she said. "My students enrich my life. Even on the hard days, seeing their faces brightens my day."
Oakes is honored to be the District's recipient of the Education Celebration Rookie of the Year award this year.
"My colleagues are a joy to work with!" she said. "They gently remind me that we're all in this together. They are passionate, realistic people who know when to tell me when to take a break from work and enjoy life, but also remind me that hard work creates success."
In the spare time she has left, Oakes also coaches seventh grade girls' basketball for Tuslaw, and this year's team won the PAC-7 title with an undefeated season.
"I have always wanted to coach, so when the opportunity presented itself during the summer of 2019, I took it," she said. "On the first day of school a colleague told me I had a great team and would win the PAC-7. I joked about that being a huge pressure for a first year coach. Our first scrimmage was a mess. I felt like I was going to let down a great group of hard-working girls who had a history of winning, but we reset and I decided to treat the team like my classroom; we focused on relationship, team-building, and skill, and it paid off. We took the season one game at a time and ended up with a 17-0 record as winners of the PAC-7 championship! These girls really worked hard and deserve the season they had."
Malone faculty have supported and enhanced Oakes' career in education.
"The faith-based curriculum at Malone helped me focus my efforts on 'purpose,' which is easy to forget in the busy, tired life of teachers," she said. "My professors cheered my every accomplishment and the support staff was always happy to help with my questions or concerns. I am grateful Malone offered me the opportunity to complete a degree while maintaining another career. It was a lot of work, but well worth the investment."