Computer Science grad has huge IMPACT on company
Chad Fitch '12, pictured with his wife,Beckie (Linder) Fitch '12, an RN who works in the Cleveland Clinic cardiovascular intensive care unit.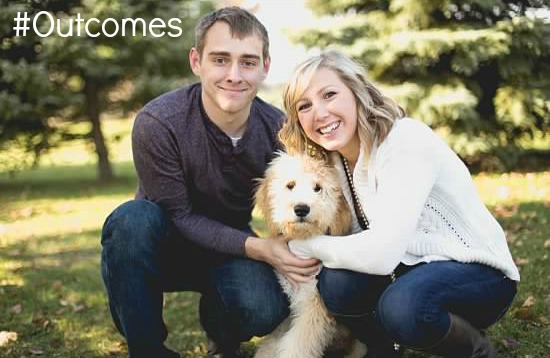 Never underestimate the power of networking, as even a few months can make a more significant IMPACT than one might expect. For Chad Fitch '12, a four-month internship was long enough to prove that he could contribute invaluably to Westfield Group as an applications developer.
As a computer science major at Malone, Fitch was taking a class in mainframe (which is rare for undergraduate curriculum in the state of Ohio) when a Westfield mainframe developer participated in a campus visit with his son. Upon stepping into a computer lab, he observed that the same system was being used at Malone as at Westfield, so he initiated contact with computer science faculty about internship opportunities.
Fitch was one of the first Malone students to receive a paid internship at Westfield during spring of his senior year, and while there were no full-time positions available upon graduation, a developer position opened up 11 months later for a new project dubbed "IMPACT." Fitch was hired!
IMPACT, a three-year endeavor, was the largest IT project in the history of Westfield with regard to both manpower and cost. The project was multi-dimensional and intricate, but finished on time and on-budget; an opportunity that Westfield CEO Jim Clay described as an "envy of the industry." Fitch received both a promotion and an award his role in the success of the project.
"I am so glad I chose Malone because of the multi-dimensional aspects of the computer science curriculum," Fitch said. "I was interested in how technology works in the business world and the value that it creates for various organizations. I worked in the IT department as a student, and it is one of my fondest memories because it helped me understand real world applications of classroom concepts."