Counseling honors society creates mentorship opportunities for graduate students
Chi Sigma Iota (CSI) honor society, for graduate students, values academic and professional excellence in counseling. Malone's chapter of CSI prioritizes community engagement and service, and provides support to budding counselors as they grow in ethical judgement.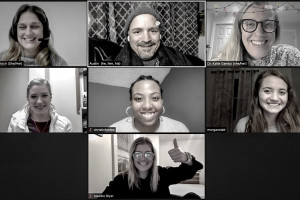 "CSI is a wonderful setting for counseling students to connect with peers, professors, and regional professionals, and to make positive contributions to the Malone community," said Christina Woloch '16, assistant professor of counseling and human development. "Our chapter advocates for the campus and local community, providing opportunities to meet their mental health needs with annual events like 'Mind, Body, and Soul,' which focuses on holistic health and wellbeing."
Involvement in the Malone chapter has shaped students in multiple ways.
"CSI has given me opportunities to learn, relate, and grow with my peers by providing a space for us to work together to advocate for the mental health needs in our community," said Morgan Stair '22.
"It can be easy to develop a narrow view of the counseling profession – a client and a counselor in a room, working through problems that negatively affect healthy functioning," Christin Fontes '23 said. "My involvement with CSI has broadened my outlook for what's possible upon graduation, offering opportunities to creatively collaborate with our peers to improve the overall mental health of this community. At its core, CSI showcases what's possible when counseling students can connect with one another. While the coursework of the program builds my aptitude as a counselor, CSI prepares me for a life of service outside of sessions."
Malone's chapter has 42 members, advised by Christina Woloch and Katie Gamby, assistant professors of counseling and human development, and includes the Executive Leadership Board:

President: Morgan Stair '22
President-Elect: Taylor Pace '22
Secretary: Christin Fontes '23
Treasurer: Austin Miller '22
Mentorship Committee Chair: Maddie Blyer '23
The organization's upcoming service project is the launch of a mentorship program for student support, encouragement, and community with fellow counseling students.
"We not only provide local students with an opportunity to connect with peers, but also hope to connect with our online students who are completing the program from locations extending across the U.S. and around the world," said Woloch. "We are also excited to work together to complete fundraising initiatives that help meet the mental health needs of the Canton community."