Cross country coach brings the US Track-sanctioned 6K event to Canton
Christina Oprean, Malone's head cross country coach/women, has always wanted to host a running event that inspired purpose, empowerment, and meaning. Over the years, Oprean has discovered that she wants to impact the lives of young ladies, specifically young runners, and knew she wanted to focus a running event on that.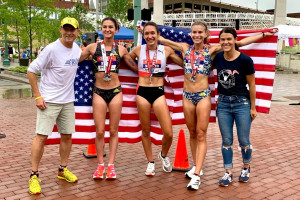 With six years in the making, Oprean hosted the first ever Women's 6km Festival in July.

"This event really started out as a daydream idea," said Oprean. "When I went on runs a while back, I would picture it in my head. To see it be put on a platform and now to see others enjoy the event in real life was really neat."
The Women's 6km Festival served as a USA Track and Field (USATF) distance championship event, which included students from Malone, the women's cross country team, and 45 elite national / international female athletes.
"I wanted participants to come to our campus, a reason for them to know Malone," she said. "I feel my purpose here is to make Malone better, help Malone thrive, and this event would only help with that purpose. It was a no-brainer, really, to have Malone be a part of this."
The event was a success and gave others hope.
"The Women's 6km Festival was such a fun and empowering event," said Janie Linger '21. "It didn't matter if you were running the race competitively or just wanted to get your steps in for the day, everyone was there to support one another. It was a really special day for so many strong women to join together and cheer one another along."
The future looks bright for the Women's 6km Festival.
"I received numerous emails from both the open and elite divisions, expressing their gratitude," said Oprean. "It was overwhelming. Next year, we are hoping this catches the entire state of Ohio's attention and I'm optimistic that we'll see it flourish in the next few years."