Dallas Brass to perform at Malone on November 8
Recognized as one of America's foremost musical ensembles, the Dallas Brass will perform at Malone University on Monday, Nov. 8. The concert is planned for 7 p.m. in Malone's Johnson Center for Worship and the Fine Arts with prelude music beginning at 6:30 p.m. in the main lobby.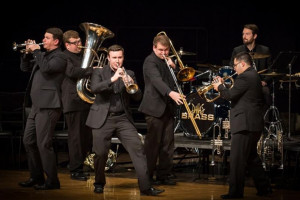 As part of the program, the Dallas Brass will perform with the Malone University Symphonic Band, Faculty Brass, and the High School Honors Band, featuring outstanding young musicians from across northeast Ohio.

Founded in Dallas, Texas in 1983, the Dallas Brass has established a unique blend of traditional brass instruments with a full complement of drums and percussion. The Ensemble's repertoire includes classical masterpieces, Dixieland, swing, Broadway, Hollywood, and patriotic music. In addition to their solo engagements, the group has performed with symphony orchestras nationwide including the Cincinnati Pops, New York Pops, and the Philly Pops. Performances include concerts in Carnegie Hall, the John F. Kennedy Center in Washington, D.C., and venues throughout Europe.

A strong commitment to working with young musicians led the group to publish two books of original, small ensemble music for middle school and high school students. Their interest in connecting with young people is expressed through performances with high school ensembles as part of their shows. While at Malone, the group will perform with the High School Honors Band, featuring northeast Ohio musicians nominated by their high school band directors.

"We've invited directors to nominate students for the experience and it has been a great collaboration between Malone and the high schools," said Jason Wyse, Malone director of bands. "Twenty different northeast Ohio schools will be represented in the Honors Band. This is a very unique opportunity for these students, who will experience clinics, master classes, and rehearsals with members of the Dallas Brass during the day, then perform with them at the concert," said Wyse. "It promises to be a memorable day for all involved."
General Admission is $10

Tickets will also be available for purchase at the door.

For more information, call 330-471-8231.