Data Dames Marketing brings Malone alumnae together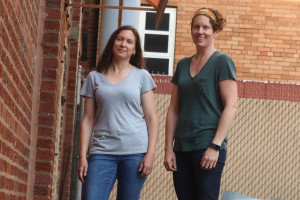 Even though they graduated nine years apart, Jen (Martin) Carroll '96 and Annalisa Hilliard '05 have used their parallel Malone communication arts experiences to build a business that equips their clients to approach online marketing as both a science and an art.
"We may not have attended Malone at the same time, but we share many formative learning experiences with the same professors at Malone, including Marcia Everett, John Geib, and others," said Carroll. "They taught us to ask good questions, nurtured our mutual love of learning, and held us to high performance expectations--three things a constantly evolving career in marketing demands."
Data Dames Marketing came to fruition as the result of friendship over coffee, NPR, good books, and faith in January of 2020. An online marketing consultancy, Carroll and Hilliard help small and midsize organizations align their marketing strategy and metrics with their business goals.
"We met in 2011 when we both started working at a local web marketing agency," said Hilliard. "Jen managed content marketing, social media, and media relations while I established my career in technical search engine optimization (SEO), data analytics, and link building. Outside of work, we became good friends and would often say to one another, 'We should start a business together.'"
In 2013, Carroll transitioned to another digital marketing position at a hospital across town and Hilliard remained at the agency until May of 2018, when her position was eliminated. What neither of them knew at the time, while Hilliard interviewed for SEO opportunities, was that God was going to allow their dream business to become a reality.
"What a year to start a business," said Carroll. "Our biggest challenge has been determining how to best spend our finite amount of time and energy. In striving to serve both clients and our own business well, we're pulled in many directions, and all that's happened so far in 2020 only intensifies that. Having a long-time friend and trusted business partner on this journey is invaluable. Together we solve problems, encourage one another, and hold each other accountable."
When they aren't serving their clients, they enjoy creating new content for their "Meaningful, Measurable Marketing" podcast, which is available on their website, Apple, Spotify, and elsewhere.
"We are podcast fanatics with dreams of starting another podcast for fun," said Hilliard. "We also enjoy walking our office dogs, Lewis and Zola, past Malone's campus almost every day. We are so thankful for the University's continued presence in the Canton community and for its impact on our own lives."