Director of Spiritual Formation Named CCCU Commissioner
Linda Leon, director of spiritual formation, has been part of the Malone community for decades.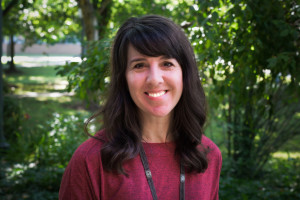 "I graduated from Malone in 1993, and I returned in 1995 to serve students while working with the Coalition for Christian Outreach (CCO)," she said. "In 1997 I started working at Malone part-time as director of campus ministries, and starting in 2004 I became a fulltime Malone employee."
While her official title may have looked different throughout her Malone journey, one thing has remained constant; Leon's love of working with students.
"Discipleship is my favorite aspect of ministry, and I love conversation with students. Whether it is with an individual or in a small group, there is nothing better than talking about faith and life. I strive to do my best to tackle topics about faith and general life troubleshooting," said Leon.
And now, with a recent appointment, Leon will be serving an even wider population of students by being a voice to those who serve them.
"I have been newly appointed as a Commissioner on the Council for Christian Colleges and Universities Campus Ministries Commission," she said. "During the pandemic I started proposing to the CCCU campus ministry email group that we pull together best practices for serving students during that time. I think folks started to know me through that and I was nominated for the position."
The CCCU is an international organization which seeks to impact and improve all aspects of students' lives, "The CCCU's mission is to advance the cause of Christ-centered higher education and to help our institutions transform lives by faithfully relating scholarship and service to biblical truth."
"There are 185 institutions around the world that make up the CCCU and Malone is a vital part of that global network. They're concerned not just with the type of education offered to students, but also with the type of ministry that is happening, the faith integration occurring in the classroom, and the legislation across the US that impacts higher education," said Leon.
This multinational organization is key in Christian education to Leon because it emphasizes something intrinsic about Christian students.
"I am a big proponent of community in the sense that we are created by God to be in community. So when a community, be it small or large, works together towards a common purpose we see God at work in His fullness," she said. "So when all of these institutions work together on this brand of education, then you have a multitude of people with their gifts and talents working on the same mission. We think in community and God works in community, so why would we not ask and share what works for different institutions to make us all stronger?"
Leon will be able to emphasize this collaborative spirit through this role.
"I will meet monthly online with the team and touch base about trends in campus ministry, what we are seeing as student needs, and how we can support other campus ministry staff within the CCCU," she said. "Another main goal is for the various commissioners to work together to plan the annual February CCCU conference."
Even with a global view, Leon knows that Malone is her home and that she is now a representative for the place she loves.
"I think of myself as a representative of Malone. I love Malone and our students, and I'm so thankful to represent our university and be part of a board that makes changes throughout the CCCU," she said. "I think we do wonderful things as a university. I've been associated with Malone since 1989, so it is important to me that the place I gave my life to is well represented. On another level, I want to know what's working well for campus ministry across the world so that we can adapt that for use here. Malone now has a voice shaping campus ministry across the globe, and we can gain from this braintrust and community as much as we can help."
While she may not have anticipated this as a step in her career, Leon is ready for the challenge and eager to move all of Christian education in a positive and effective direction; for Malone and beyond.
"I am in my 30th year of campus ministry so I have a sense of what works and what doesn't. This is an opportunity for 6-8 of us commissioners to find what is best for the CCCU right now," she said. "I had no idea this was coming, but I'm very glad to be doing it. I want to grow and challenge myself as a professional and this is a significant challenge for me. I'm ready for it, and I'm so excited for what I'm going to learn and how I'm going to serve."