Dominion Foundation gives Hike It! program legs
Malone's Hike It! Ecosystem Adventure program in the School of Education & Human Development a recipient of Dominion Foundation's Environmental Education & Stewardship grant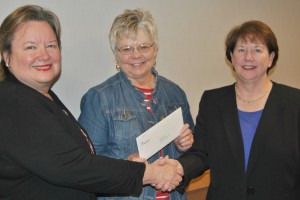 Malone University's School of Education & Human Development's Hike it! Ecosystem Adventure program received a $15,000 grant as part of The Dominion Foundation initiative to fund $1.2 million in Environmental Education & Stewardship Grants.
Whether forging new nature trails, restoring waterways, or inviting youth to learn about nature in the great outdoors, this year's competitive grants support environmental education and stewardship projects that preserve, enhance, or make nature more accessible.
"This year's grants will support more than 100 organizations dedicated to improving the world we live in," said Jeff Murphy, Dominion East Ohio vice president and general manager. "It's very fulfilling to support such a wide range of environmental efforts that encourage people in our communities to improve, treasure, and protect natural resources."
Through Malone's Hike It! Ecosystem Adventure program, third graders from eight nearby school districts will visit and study various ecosystems in the University's nature lab, including lakes and ponds, old and new growth forests, native game, and bogs set on a rolling landscape.
Nancy Varian, Ph.D., and Director for the Center for Professional Development, was responsible for securing the grant.
"We're pleased to able, with the support of the Dominion Foundation, to offer ecosystem training to our Malone teacher candidates as they create a nature lab," said Varian. "Using the nature lab and teaching techniques, the Malone students will engage area third grade students in interactive lessons. Hike It! Ecosystem Adventure will be a great way to discover and learn through inquiry!"