Firefighter gains new skills from Malone degree
ALWAYS PREPARED. Lt. Rob Morton during a rescue training with the Plain Township Fire & Rescue.
To advance in his career as a firefighter,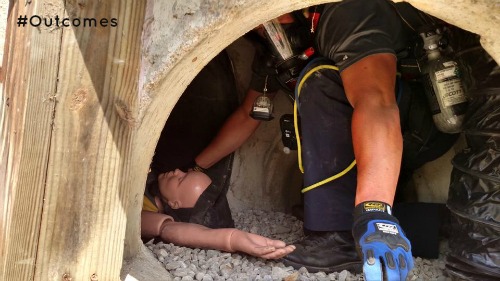 knew he had to finish his bachelor's degree.
"My other motivation was to complete my journey toward a college degree that I started 18 years ago," said Lieutenant Morton, who serves the Plain Township Fire Department. "One aspect of Malone's program that intrigued me was the face-to-face interaction with other working adult students and the diversity of real life experience brought into the classroom."
Morton was worried at first that he wouldn't be able to handle the course work after such a long break from traditional schooling. However, those fears were soon put to rest.
"After a few papers and the help of the writing lab, writing a paper or essay became second nature," he said. "Advice I would tell a returning adult student is to work ahead as much as possible and do not be afraid to seek help from the instructors, school resources, and other students."
Morton also is a fire instructor at Stark State College, and has training as a water rescue and ice rescue technician.
He is pleased with the education he received from Malone.
"I met a lot of great people throughout this journey," Morton said. "This experience has given me the opportunity to communicate better personally and professionally, be more open-minded to others' viewpoints, and solidify my relationship with Christ."