From Guitar Hero to Grammys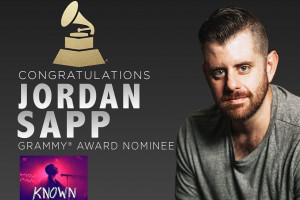 Jordan Sapp '08, professional music producer and songwriter for Capitol Christian Music Group (CMG) in Nashville, is taking the Christian music industry by storm. His first Dove Award for producing on Tauren Well's album "Hills and Valleys" (Pop/Contemporary Album of the Year) and his first Grammy nomination for their song "Known" (Best Contemporary Christian Music Performance/Song), are due, in part, to his Malone experience.
"I wake up every day thinking about music which is pretty fun!" Sapp said. "I typically co-write three to five songs per week and when I'm not writing, I'm recording vocals, working on my tracks, editing, or mixing. I get to work from my home studio most of the time, which allows me to be around my family, and feel so fortunate and blessed that this is my career."
Sapp took piano lessons as a child, but soon recognized the need for a good musical foundation in order to succeed in his field.
"I chose Malone because I wanted to attend a Christian university that also had a music production program," Sapp said. "On a practical level, my music classes gave me a good foundation for what I'm doing now. Learning about proper voicing, inversions, and dynamics are just some of the tools I use every day to communicate with other professional musicians, build my tracks, and write songs."
While he was a student, Sapp was involved with the chapel band, worship nights, talent shows, and time spent with friends, many of whom he's still connected with today. He also did an internship with Benjamin Payne at his studio, Studio 521, which provided him hands-on experience with the recording process and real-world outlet to improve his skills.
"College is what you make of it," he said. "My education was well-rounded through my exposure to classical music and jazz, and my coursework in music production, recording, live sound, and acoustics inspired me to spend most of my free time improving my production and mixing skills. I wanted to know how to make my music professional quality, like we hear on the radio."
Upon graduation, Sapp and his wife Jessica moved to Los Angeles for his first industry gig: working on Guitar Hero with Activision. A few years later, he was given the opportunity to work under a major music producer as an engineer and vocal producer, which gave him experience bringing the vocals of well-known pop artists to the highest industry standard.
"It was really cool to work on projects with artists like Jason Derulo, Pitbull, and Nicki Minaj," Sapp said. "I learned so much about producing pop music and it really prepared me for the rest of my career."
After the arrival of children to their family, the Sapps chose to move to Nashville, where he immediately signed a publishing deal with Capitol CMG. Since 2014, he has co-written and produced a few #1's at Christian radio (Aaron Cole - "Right On Time" and "One More Day", Blanca - "Real Love", Tauren Wells - "Known"), as well as his recent award contenders and winners.
Want to stay up-to-date with his current projects? Follow Jordan Sapp on Instagram: @jsappmusic