Growing pains build opportunity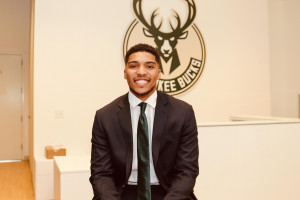 For Cameron Ingram '20, college led him down an unexpected path. He enrolled at Malone as a biology pre-med major and a football player. However, during the second game of his freshman year while playing quarterback under center, he broke his leg. This not only challenged his football career but made him wonder if he would be able to recover his grade point average. Professor Kate Huisinga, his first adviser, worked with Ingram as he considered his best path moving forward. That path would eventually be Sport Management.
Since switching his major, Ingram improved his GPA from 1.8 to 3.0+. He credits the Malone community for the improvements he made and the lessons he learned.
"Countless people at Malone have helped me to succeed," he said. "Faculty have impacted me and stuck with me when life was hard. Staff have taught me so much about life and my coaches stayed on me about my GPA and helped me stay grounded each year. I am so grateful."
Through the connections made at Malone, Ingram was introduced to an opportunity to intern for the Milwaukee Bucks.
"I run Sport Management Night to connect college students with executives and hiring managers at the Bucks organization because I want to support students who are interested in breaking into the sports industry," said Philip Fisher '16, a group account executive. "Cam capitalized on this opportunity by taking my advice and executing the next steps I suggested for him. Our inside sales manager and I were so impressed with him. He demonstrated that he is driven, teachable, and full of potential."
Two years later, after persistence in the classroom and by gaining as much experience as possible in the sports industry, Ingram was selected for the internship. A junior sales associate, Ingram created revenue for the Bucks by generating business through individuals, groups, and businesses for the team's 2019-2020 campaign. He also sought out business for Fiserv Forum, the arena where the Bucks play.
"I had great leaders and I feel so blessed for the opportunity," Ingram said. "I won't take this experience for granted or forget where I came from and how Malone helped me get there."