Humanitarian filmmaker creates YouTube community in support of global good
For the last five years, humanitarian film maker and photographer Bob Ditty '93 has made his life's work about helping non-profit organizations in East Africa create meaningful content in support of their missions.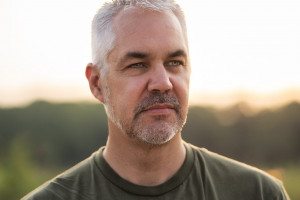 "I absolutely love what I do," he said, "because it gives me a sense of purpose to help meaningful organizations do the good work that they do in the world."

He is also the creator of the #MzeeSeries ("Mzee" in Luganda means "Old Man"), which focuses on photographing the elderly in Uganda, one of the world's youngest countries. In 2019, Ditty won first runner-up in Africa Geographic's Photographer of the Year contest for a piece from his Mzee series.

A self-funded artist, Ditty wants to build a strong community for humanitarian filmmakers and photographers, and he recently launched a YouTube channel to help that community learn from a holistic approach to creating film and telling stories.

"I think it's time that we bring together talented media to help tell the stories of the humanitarian work that's being done in underdeveloped areas around the world," he said. "There's plenty of artistic work to go around, and the more we learn together, the more we can create amazing media for world-class non-profits and NGOs."

The content on Ditty's channel will be a practical resource for media creators, including budget solutions, spotlights on other artists in the spirit of learning from one another, and his own step-by-step journey to creating films on a budget, including conceptualization, script-writing, casting, directing, and color-grading.

"A lot of film-making is all in the head: coming up with ideas and knowing how to shoot. That's the limitation," he said. "Artistic creativity is what sets filmmakers and photographers apart, not their equipment. I want our community to talk about the 'why' we do things, not just the 'how,' so that we can help each other with the greater good of the world. I truly believe that it will help us all make a difference."

Check out Ditty's new YouTube channel and sampling of his photography at @bobditty on Instagram.