JC Pawlyk named semifinalist for National Football Foundation's Campbell Trophy
The National Football Foundation recently named Malone University defensive back/linebacker JC Pawlyk '17 a semifinalist for the 2016 William V. Campbell Trophy.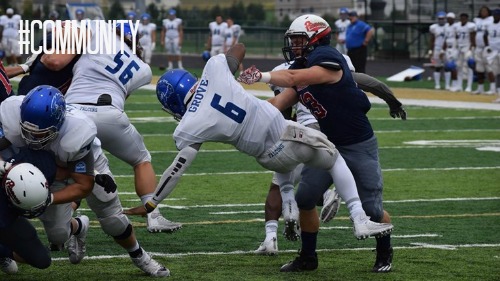 The award incorporates academics, football ability, leadership and community involvement, recognizing an individual as the absolute best football scholar-athlete in the nation. Pawlyk, a native of Canal Fulton, Ohio, serves as a team captain and starter for the Malone defense and is among 156 semifinalists from all levels of college football.
"JC has been a great role model for our younger players on the field, but more importantly he is a great influence in helping them mature," said Malone head football coach Fred Thomas. "He has been able to balance his community service and his academic responsibility and still be an outstanding football player. He is very deserving of this prestigious honor."
Through four games so far this year, Pawlyk, a health education and physical education major, ranks third on the team with 29 tackles. He also registered two tackles for loss, a half sack and a forced fumble and was named the Great Midwest Athletic Conference Defensive Player of the Week following a 13-tackle performance on September 17 against Notre Dame College.
As a junior in 2015, Pawlyk was named to the Great Lakes Intercollegiate Athletic Conference Honorable Mention Team after starting all 10 games and finishing second on the team with 64 tackles and two interceptions.
In the classroom, Pawlyk has compiled a 3.54 cumulative grade point average. He is a member of Eta Sigma Gamma, the National Health Education Honorary, and has consistently been named to the Dean's List and GLIAC All-Academic Team.
Pawlyk, one of 17 NCAA Division II semifinalists, is also heavily involved in the community, teaching health education classes at his church and volunteering with several youth sports programs.
Each institution is limited to one Campbell Trophy nominee and candidates must be a senior or graduate student in their final year of eligibility with a GPA of at least 3.2 on a 4.0 scale.
The NFF will announce 12-14 finalists on November 1. Each finalist will receive an $18,000 postgraduate scholarship as a member of the NFF National Scholar-Athlete Class. One member of the class will then be declared the winner of the Campbell Trophy at an awards dinner in New York City on December 6. The Scholar-Athlete class is selected each year by the NFF Awards Committee, which is comprised of a nationally recognized group of media, College Football Hall of Famers, and athletics administrators.