Julie Goff '92 '21 earns sole school counselor position after obtaining second Malone degree
Julie Goff '92 '21 returned to Malone 20 years after she completed her bachelor's degree to earn a Master of Arts in Education in School Counseling.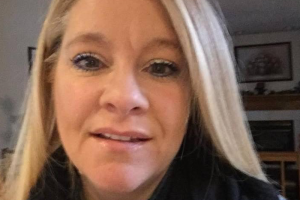 Goff wanted to advance in her career, renew her credentials as a Licensed Social Worker (LSW), and integrate faith components into holistic counseling. As a result of both of her Malone degrees, she landed a job at Kingsway Christian School that suits her well.
Goff chose Malone for many reasons.
"When I visited Malone, those I met expressed so much interest in me that I felt compelled to give the psychology program a try," she said. "The following year, my twin brother, Jeff Conner '93, followed my lead. In general, my family has a longstanding heritage at Malone, including my husband, Jeffrey '92, who has served as professor of chemistry for more than 24 years, and three of our six children. Jeffrey's parents and several aunts and uncles attended and graduated from Malone and our collective experience has demonstrated time and again that Malone graduates are well prepared for the workforce. Malone is home, so it's where I wanted to be."
Goff gained real-world experience from working with students ranging from elementary to high school throughout Malone's counseling program.
Her practicum experience was at Perry High school, studying the "art" of the SMART lab (Stress Management and Resilience Training Lab) under Luis LaCourt. She also gained a paid internship at Lake Center Christian School, where she served part-time as one of their elementary school counselors, participating in individual counseling sessions and group work.
Now a two-time Malone graduate, Goff serves as the sole school counselor for Kingsway Christian School after the position remained vacant for several years. This position will allow her to develop a comprehensive school program for students ranging from K-12.
"Working with PreK-12 has its challenges because the needs of the students are so vastly different," she said. "However, I love all ages and stages of child development! I have been assigned additional duties such as testing coordinator, attendance monitoring (linked to maintaining scholarship dollars), identifying and working with at-risk students, and generating report cards. None of these tasks were addressed during my Malone education, and some might argue that they shouldn't be assigned to a school counselor, but I've learned that, in a small, private school setting, you get to wear many hats and your duties are often expanded. I'm thrilled to serve at Kingsway and appreciate their similarities to Malone as they intentionally impact students for the Kingdom!"
Goff knew that Malone has a reputation for developing top-notch professionals.
"While at Malone, I benefited from a fantastic community with my classmates who are people of faith and feel called to use their God-given gifts and passions in a counseling profession," she said. "Without these spiritual friendships, it could be difficult to find someone to bounce ideas off of as I work through ethical dilemmas."
Malone prepares counseling students to succeed in their studies and in their work.
"By the time I needed to take my state board exams, I felt prepared for the job market", she said. "During our classes, we were frequently asked challenging questions that would likely come up during a job interview. Each course in the program was in-depth and our class projects mimicked the actual work we would do in the field."