Leadership Malone Youth Institute Launches
Malone University is committed to developing a community of diverse high school students who will become strong, next-generation leaders in Canton and Stark County-- beginning with the inaugural class of the Leadership Malone Youth Institute.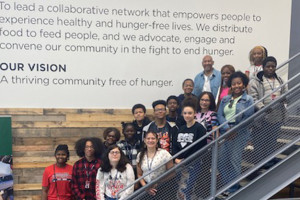 An extension of the Canton City School District Youth Leadership Institute, Leadership Malone's goal is to enhance the leadership skills of students by providing them direct teaching and experiential learning. Hosting the Institute at Malone, with the help of George Lancaster '15 who co-facilitated and led leadership instruction sessions, enabled the participants to have a meaningful pre-college experience in addition to the focus on leadership.
"Identifying participants was a selective process and we were eager to meet students who really wanted to challenge themselves to grow through the opportunity," said Andrea Ramsey, director of multicultural services at Malone. "Students were selected by the recommendation of teachers and school counselors based upon demonstrated leadership or leadership potential. Those who were selected received a stipend upon completing the program and became eligible to attend future Leadership Malone events, including a competition for academic scholarships."
In June, 14 participants spent five days on campus, studying the tenets of leadership and developing a greater awareness of, and appreciation for, the career opportunities that await them in Canton. They worked independently and in groups to apply their leadership skills in practical ways:
Day 1 Leadership 101 -- Foundational Principles of Leadership (YELL, Stafford University Curriculum, 2007.)
Day 2 Leadership Applied -- Applying the Principles of Leadership
Day 3 Malone Day -- College Readiness, Admissions, Financial Aid
Day 4 Community Day -- Service Learning Project
Day 5 Bringing It All Together -- Student Leadership Group Presentations
"Students had an opportunity to engage with local professionals and experience authentic leadership to prepare them to think about their future careers, as well as college and career readiness," said Ramsey.
Featured speakers included Hector McDaniel, president of Stark Co. NAACP, Jean Engohang-Ndong, Ph.D., Kent State Tuscarawas professor and owner/director of EKAZA Learning Center, and Flo Giananni, vice president of equity and culture at United Way.
"Malone is continuing to create strategic partnerships in an effort to utilize the resources and expertise of organizations like the City of Canton Office of Community Development, Stark County NAACP, and the United Way," said Ramsey. "It's just one way we can combat barriers to access and opportunities for all students to succeed and achieve at their personal best."
Field trips also enhanced the Leadership Malone experience. The "Dress for Success" trip to JCPenny prepared the students to present themselves in career-ready attire for interviews, work and community events, and school competitions. They wrapped up their Institute experience by putting their leadership skills to work at a drive-through food giveaway sponsored by the Akron-Canton Regional Foodbank.
"Our students helped distribute food to nearly 100 families at Canton City Schools' STEAMM Academy @ Hartford," said Ramsey. "I enjoyed watching them engage with their community as they experienced how their hard work serves others."