Linard accompanies student to Macy's Thanksgiving Day Parade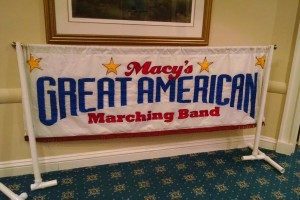 It's safe to say that April Linard's holiday season got off to quite an exciting start.
Linard '05 has served as the Director of Bands at Union Local High School in Belmont, Ohio, for the past nine years. This fall one of her students, Hannah Smith, asked Linard to nominate her for an audition for the Macy's Great American Marching Band, Linard eagerly agreed. And Smith was accepted.
The honors band is comprised of select students from each of the 50 states and includes 185 musicians and 40 flags and dancers. The musicians are under the direction of Auburn University's Richard Good and Assistant Director Barry Houser from the University of Illinois.Students' band directors are asked to be chaperones.
"Hannah was so excited to be selected for this honor," said Linard. "As we went through our week of rehearsals, we found out that Hannah's audition came in first out of all of the 24 selected flute players – and all of the applications from all over the country."
Linard and Smith arrived in New York City the week before Thanksgiving, and spent those days rehearsing and sight-seeing.
"My favorite moments were actually marching in the Macy's Thanksgiving Day parade," Linard said. "It was an awesome experience to see so many people wave to you and wish you 'Happy Thanksgiving' along the parade route. It was like we were all celebrities."
Linard teaches all bands grades 5–12, 7th grade general music, and high school theatre.
Update: Linard's trip to New York City has become an annual tradition, as she has also had students accepted to the Great American Marching band in 2015 and 2016.
View CNN's video on the Macy's Great American Marching band here.