Local congregation establishes life-changing scholarship fund at Malone University
The kindness and compassion of a local congregation has changed the lives of two Malone University students and led to the establishment of a scholarship fund to help students in the future.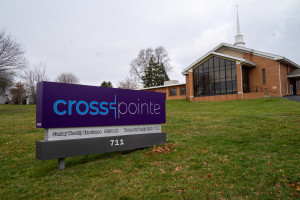 Cross-Pointe Church, led by pastor Brad Myers and located immediately adjacent to the Malone campus on 25th Street in Canton, raised funds in the summer and fall of 2021 to help a first-year student from Haiti, Elischamma (Elg) Belade, meet the cost of attendance and continue her drive to someday earn her degree.
"We had heard that Elg was struggling to pay her bills and wanted to love on her in any way we could," said Myers. "She was very active with our congregation, attending every service. We wanted to help her stay at Malone and stay in the life of our church family. The funds we raised then allowed her to devote her other sponsorship money to help her sister, Jothy, join her as a student in the fall of 2022."
Myers and his staff, congregation, and other supporters established the Malone Student Scholarship Fund which will provide between $1,000 and $5,000 annually to students with financial need who are attendees of Cross-Pointe Church.
"We talked with staff in Malone's Financial Aid office and discovered that, oftentimes, it is only a few thousand dollars that is needed to keep a student enrolled," said Myers. "That is the sweet spot and what we will provide through the scholarship fund."
Recipients of the scholarship will need to be active in the congregation and serve one of the church's many ministries.
"Elg has been active with our worship team, but she also is here every Saturday working with our cleaning team to take care of our facilities," said Myers. "That kind of dedication makes us feel good about the money raised and our commitment to the scholarship fund."
Creating the scholarship fund is consistent with the mission of the church, according to Myers.
"A better way, a better life," said Myers. "We want to help people live a better story with power, passion, and purpose. It is life-changing and tremendously inspiring to see how the funding has impacted this young lady's life, and that of her sister, as we look forward to how these funds will be used to assist future students."
For more information on the Crosse-Pointe Malone University Scholarship Fund, or to contribute, contact Myers at 330-492-9290; or email him at brad@cpointe.church